E-Ten Information Systems has announced the Glofiish M810 and M750, the first in a new series of Pocket PC phones from E-Ten that put the focus on portable entertainment, dynamic social networking, and go-anywhere communications ideal for the Web 2.0 generation.
The Glofiish M810 features HSDPA connectivity while the M750 features EDGE technology for high-speed access to the Internet. Both devices support quad-band GSM, Wi-Fi b/g, Bluetooth 2.0 and GPS. Further specifications include a 500MHz Samsung S3C processor and 256MB Flash ROM. Both handsets run the Windows Mobile 6 platform and have dimensions of 109.5×59×17.5mm.
The M810 and M750 have a full QWERTY keyboard, 2-megapixel auto-focus camera and 2.8-inch display. The handsets also support digital music formats and have a built-in radio. The M810 and M750 are the first E-Ten Pocket PC Phones to include built-in JAVA support allowing downloadable applications, including games, to be played on the device, highlighted the company.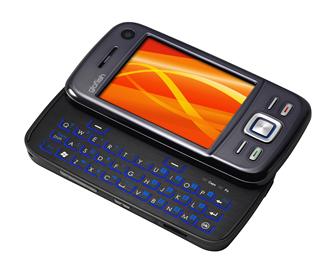 E-Ten Glofiish M810/M750 handset
Photo: Company