Cooler Master has introduced an evolution to its high-end Cosmos chassis focused on delivering improved airflow and more upgradeability for performance PCs.
The Cosmos S is an all aluminum-built chassis which should make it much lighter than the original Cosmos, while still remaining strong. The overall design of the S remains similar to that of the original, with a few refinements such as new touch-sensitive buttons, and covered I/O ports.
The main focus of the S has been increased airflow, with the new design featuring an all-mesh front. The side panel has also been opened up and includes a large 200mm fan which is going to become important as three graphics card systems become more common.
For even more cooling Cooler Master also offers a 3-fan radiator which can be installed at the top of the Cosmos S, or a complete water cooling system as optional accessories.
The Cosmos S is available now at a recommended price of US$249.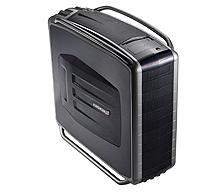 Cooler Master Cosmos S
Photo: Company