Apple MacBook Air appears
Eric Mah, DIGITIMES, Taipei
After much speculation and rumors of its existence, Apple at Macworld 2008 unveiled an ultra-thin addition to its MacBook lineup, the MacBook Air.
The new notebook measures 0.16-inches at its thinnest point, while its maximum height of 0.76-inches is less than the thinnest point on competing notebooks, according to Apple.
The MacBook Air has a 13.3-inch LED-backlit widescreen display, a full-size and backlit keyboard, a built-in iSight video camera for video conferencing, and a trackpad with multi-touch gesture support. MacBook Air is powered by a 1.6GHz or 1.8GHz Intel Core 2 Duo processor with 4MB L2 cache, and includes as standard features 2GB of memory, an 80GB 1.8-inch hard drive (and an optional 64GB solid state drive is available), and 802.11n Wi-Fi technology and Bluetooth 2.1.
MacBook Air delivers up to five hours of battery life and includes AirPort Extreme 802.11n Wi-Fi networking, which delivers up to five times the performance and twice the range of 802.11g, according to the company.
The new notebook features a mercury-free LCD display with arsenic-free glass, and brominated flame retardant-free material for the majority of circuit boards as well as PVC-free internal cables, according to Apple.
The MacBook Air will be shipping in two weeks through Apple's online store, Apple's retail stores and Apple Authorized Resellers for a suggested retail price of US$1,799.
Since the notebook lacks an internal optical disc drive, Apple has also introduced the companion MacBook Air SuperDrive for US$99. The MacBook Air SuperDrive is powered by MacBook Air's USB port, eliminating the need to carry a separate power adapter, highlighted the company.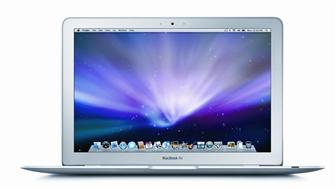 Apple's MacBook Air
Photo: Company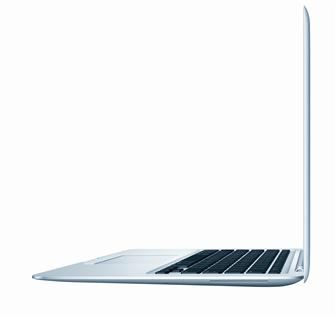 Apple MacBook Air from the side
Photo: Company