D-Link has announced that it is shipping the next generation of its gaming router, the Draft 802.11n Xtreme N Gaming Router (DGL-4500) with GameFuel technology and built-in Network Activity Display.
As the newest member of the GamerLounge product family, the D-Link Xtreme N Gaming Router offers the power of D-Link Draft 802.11n Wi-Fi combined with an updated version of D-Link's GameFuel technology. This intelligent packet processing engine is integrated directly in the router, giving online games priority for bandwidth over all other Internet applications, email and FTP transfers, according to D-Link. These technological advancements boost gaming to maximum speeds to provide the ultimate "no lag" gaming experience, noted the company.
Optimized for both PC gaming and today's popular game consoles such as Microsoft Xbox and Sony PlayStation, the D-Link Xtreme N gaming router provides gamers with increased control to maximize online performance by incorporating D-Link's Xtreme N Duo wireless technology (allowing users to choose the 2.4Ghz or 5Ghz band), a high-performance CPU and a Network Activity Display. The DGL-4500 Xtreme N Gaming Router includes Gigabit WAN and LAN ports for performance when used as a wired router, which is ideal for LAN parties, according to D-Link.
The included Network Activity Display, a bright organic light-emitting diode (OLED) display on the router, monitors important network activity, allowing users to quickly check information such as the router's security types, network speeds and wireless network names.
The new gaming router is easily configured through the web-based interface. The D-Link Xtreme N Gaming Router features robust security to help protect the wireless network from intruders, supporting the latest wireless networking security standards, including WPA and WPA-2, and firewall features such as NAT, SPI, and VPN Pass-Through/Multi-Sessions.
The DGL-4500 features four gigabit LAN ports, one gigabit WAN port and a USB Port for Windows Connect Now, along with three external reverse SMA dual band antennas.
The D-Link Xtreme N Gaming Router (DGL-4500) is now available from select D-Link retail outlets and will be available through D-Link's network of value-added resellers, distributors and the company's online store this quarter. The manufacturer's suggested retail price (MSRP) is US$239.99.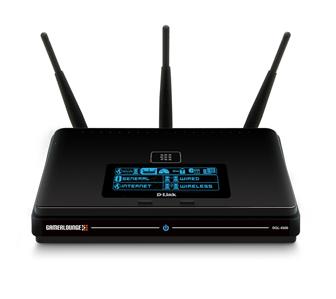 D-Link Xtreme N Gaming Router (DGL-4500)
Photo: Company