Thermaltake Technology has introduced its new Digital Home (DH) series of chassis that feature a piano mirror coating front panel and a touch panel display.
The DH101 was designed with the latest LCD display that not only supports multiple languages, but also allows different display selections with a glowing blue background.
The DH102 features an aluminum piano mirror coating and a 7-inch touch screen front LCD display, which allows users to control the media functions of the computer. The display also has 10 hot key buttons and an easy to reach volume control knob is located on the front panel.
The DH101 and DH102 come with a 12cm front fan and a double 6cm rear fan and has three 3.5-inch and one 5.25-inch drive bays.
The DH101 with no LCD display has a suggest retail price of US$156 and US$262 for a unit with LCD display. The DH102 has a suggested retail price of US$560.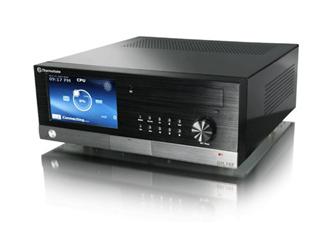 Thermaltake DH102 chassis
Photo: Company