Elitegroup Computer Systems (ECS) has announced the release of two G31 chipset series motherboards – the G31T-M and P33T-A, along with the 945GCT-M2/1333. All three motherboards support Intel processors based on FSB speeds up to 1333MHz.
Both of the G31T-M and P33T-A deliver Intel Core 2 Quad / Core 2 Duo processor support and have integrated Intel GMA 3100 (Intel GMA 3100) graphics. Additionally, a PCI Express x16 slot is available for upgrades. The G31T-M's micro-ATX form factor is designed for entry-level users and for general usage, said ECS, while the ATX form factor P33T-A is designed for performance users on a budget. Both motherboards support up to 4GB of dual-channel DDR2 800 memory.
The G31T-M and P33T-A integrated GMA 3100 graphics core supports Microsoft DirectX 9.0c and Shader Model 3.0 (software only) to deliver strong performance for multimedia applications and some gaming, noted ECS. In addition, the motherboards feature a PCI Express x16 slot supporting ECS EDGI. technology for digital multi-display output as well as future upgradeability.
The ECS 945GCT-M2/1333 motherboard is based on the Intel 945GC chipset, supports 1333MHz FSB, and dual-channel DDR2 667 memory. The motherboard also has the Intel GMA 950 graphics core onboard.
ECS motherboards specification

Model

G31T-M & P33T-A

945GCT-M2/1333

CPU

Intel Core 2 Quad/Core 2 Duo / Pentium D/Celeron processors with 1333/1066MHz FSB

Intel Core 2 Duo / Celeron D processor with 1333/1066/800/533MHz FSB

Chipsets

Northbridge: Intel G31

Southbridge: Intel ICH7

Northbridge: Intel 945GC

Southbridge: Intel ICH7

VGA

Intel GMA 3100 with Max Dynamic Video Memory up to 287MB

Intel GMA 950 with Max Dynamic Video Memory up to 224MB

Memory

Dual-channel DDR2 800/667 up to 4GB

Dual-channel DDR2 667/533/400 up to 2GB
Source: Company, compiled by Digitimes, August 2007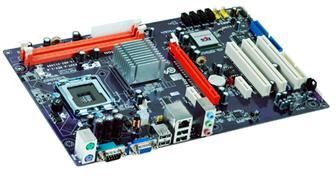 The ATX form factor P33T-A is designed for performance users on a budget
Phono: Company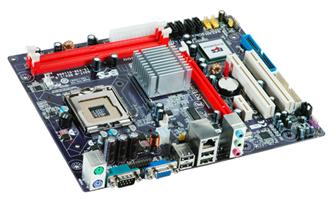 The G31T-M's micro-ATX form factor is designed for entry-level users and for general usage
Photo: Company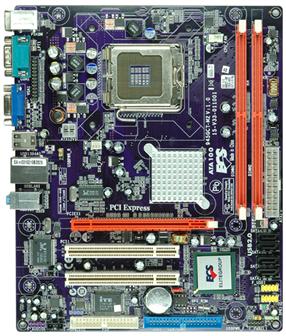 The ECS 945GCT-M2/1333 motherboard is based on the Intel 945GC chipset
Photo: Company