Logitech has introduced the MX Air mouse, a versatile laser mouse that works on the desk and in the air, similar to the way people use a remote to control a television.
To enable effortless in-air navigation, the new mouse combines three important technologies – Freespace motion-control, gesture command and wireless – so people can point, select and play media files with just a flick of the wrist.
Freespace motion control technology is designed to provide accurate, responsive navigation without the limitations encountered by previous in-air pointing devices. This patented technology is based on a combination of MEMS (microelectromechanical systems) sensors, DSP (digital signal processing) technology and RF (radio frequency) wireless technology. These combined technologies allow a user to hold the mouse in any orientation, point in any direction, and enjoy effortless, intuitive cursor control. Additionally, sophisticated algorithms distinguish between intentional and unintentional hand movements, effectively canceling the slight involuntary tremors everyone experiences when holding a device in the air.
Gesture-based commands add a new level of sophistication to the MX Air mouse. To change the volume, people press and hold the volume button and simply gesture. For music applications, a small circular motion to the right activates the skip track command, while a circle to the left repeats the song.
In place of a traditional scroll wheel, the MX Air mouse features a touch-sensitive scroll panel. A swipe of the finger across the surface enables the inertial scrolling mechanism, which adjusts its speed according to the speed of the finger swipe.
The rechargeable MX Air mouse uses Logitech's 2.4 GHz digital cordless technology, which offers a range of up to 30 feet. The sleek charging cradle is unobtrusive and elegant. And with its 2.4 GHz micro-receiver, the MX Air mouse is easy to plug in and use with a desktop or notebook PC.
The Logitech MX Air mouse is expected to be available in the US and Europe beginning in August. Its suggested retail price in the US is US$149.99.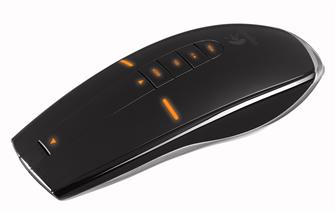 Logitech MX Air mouse
Photo: Business Wire