Silicon Integrated System (SiS) has announced that its SiS671 chipset has been adopted by Fujitsu in its FMV-D3240 desktop PC.
The FMV-D3240 supports Intel Core 2 Duo, Pentium 4 and Celeron D processors with 800/667/533 MHz FSB, plus DDR2 667 memory with size up to 2GB. The chipsets is also integrated with the Mirage 3 graphics engine.
The FMV-D3240 adopts the SiS968 as the southbridge and supports a PCI Express x1 slot, noted SiS.
Fujitsu FMV-D3240 desktop PC specifications

Item

Detail

CPU

Intel Core 2 Duo, Pentium 4 ad Celeron D processor with 800/667/533 MHz FSB

Memory

DDR2 667 up to 2GB

VGA

Mirage 3 graphics engine

Chipsets

Northbridge: SiS671
Southbridge: SiS968
Source: SiS, Fujitsu, compiled by Digitimes, July 2007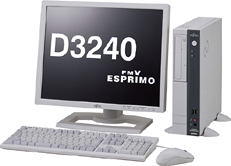 Fujitsu FMV-D3240 desktop PC
Photo: Fujitsu