Inventec Multimedia & Telecom, which goes by the trade name of Importek, produces multimedia products ranging from high-definition TV modules to micro camera units to VoIP phones. Though people may be more familiar with Inventec Electronics or Inventec Appliances, the makers of notable products such as Hewlett-Packard (HP) notebooks and Okwap phones, many may not have heard of the Importek subsidiary of the Inventec Group.
However, the company plays a major role in the IT industry, with the company's main product lines including HDTV modules, VoIP phone products and micro camera units (MCUs). The company's HDTV modules are incorporated by LCD TV makers in Korea, China and Taiwan, but the company especially targets the Japan market, with some sources estimating that the company has about 5% of the module market in Japan.
Although first-tier TV makers in Japan, including Sony and Toshiba, produce their own HDTV modules, many second tier makers outsources their production to dedicated makers. However, because Japan uses a different digital TV standard (ISDB-T) than most other global markets, and because it is difficult to develop products for the ISDB-T platform, most module makers shy away from the Japan market, with Importek probably being the top ISDB-T module maker from Taiwan in the market there.
According to industry sources, Importek's HDTV modules can be found in LCD TVs from Taiwanese makers Jean, Ya Hsin Industrial and Teco.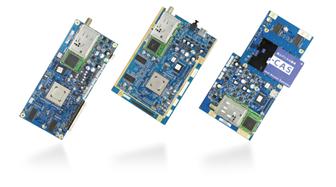 Importek ISDB-T HDTV Module
Photo: Company