High Tech Computer (HTC) on June 5 launched its touch screen-controlled smartphone, the HTC Touch (codenamed Elf), in London, with the device to be available to Orange's customers in the UK immediately, according to a company press release.
HTC also plans to launch the HTC Touch in a number of markets in Asia in the second half of this month, with Taiwan being the first leg of its launches in Asia, according to sources at HTC.
In June, more than 10 telecom service providers in Europe and Asia will also start selling this new smartphone simultaneously, mostly under the HTC brand, the sources noted.
In Taiwan, Chunghwa Telecom (CHT) will launch a customized version of the HTC Touch in mid-June, but the device will bear only the HTC trademark. CHT has launched two HTC handsets under its CHT brand
The HTC Touch, which features HTC's underlying self-developed TouchFLO touch screen technology, was designed by HTC's Magic Lab 2, indicated company sources.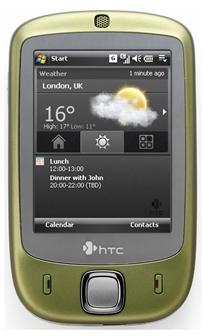 HTC's new smartphone, the HTC Touch
Photo: Company, Digitimes, June 2007