Albatron Technology has announced the 680i SLI, 680i LT SLI and 650i Ultra motherboards as part of a joint project with Nvidia to deliver a new generation of performance-class motherboards.
The 680i SLI uses the nForce 680i SLI chipset and is capable of supporting Intel CPUs including the Core 2 Quad, Core 2 Duo, and Core 2 Extreme. The 680i SLI has FSB (front side bus) speeds of 1333MHz and is geared up with three available PCI-E x16 slots, highlighted Albatron.
The 680i SLI also supports the latest dual-channel DDR2 memory specification, EPP (Enhanced Performance Profiles) that can increase memory performance significantly.
The 680i SLI also comes with dual Gigabit LAN connectors that support called LinkBoost, designed to increase networking performance efficiency. This technology takes advantage of dual LAN ports, designating one port for input and the other for output. In contrast to a standard LAN port that must manage both input and output, each LinkBoost LAN port can specialize in one-directional transmissions increasing the efficiency of data throughput.
680i SLI, 680i LT SLI and 650i Ultra motherboard specification

Feature

680i SLI

680i LT SLI

650i Ultra

Chipset

nForce 680i SLI

nForce 680i LT SLI

nForce 650i Ultra

FSB

1333MHz

1333MHz

1333MHz

SLI

2×16

2×16

N/A

DDR2 Memory

800MHz

800MHz

800MHz

With EPP Memory

1200MHz

N/A

N/A
Source: Companies, compiled by Digitimes, May 2007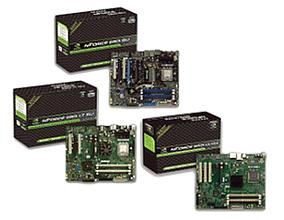 680i SLI, 680i LT SLI and 650i Ultra motherboards
Photo: Company