High Tech Computer (HTC) has announced at the Intel Developer Forum in Beijing that its new mobile computer, the HTC Shift, will be based on Intel's new Ultra Mobile Platform 2007.
"With its revolutionary design, advanced wireless connectivity, and comprehensive software applications, the HTC Shift is strengthened by the power of Intel's innovative Ultra Mobile Platform 2007," said Peter Chou, CEO of HTC.
Based on Intel Pentium M architecture with optimizations to significantly extend battery life within smaller form factors, the Intel Ultra Mobile Platform 2007 comprises the Intel A110 processor, Intel 945GU Express chipset, and Intel ICH7U I/O controller hub.
The HTC Shift combines the power of Windows Vista with a QWERTY-based keyboard design and 3G connectivity. The HTC Shift provides all the power, functionality and connectivity busy professionals need in a sleek, portable design, claims HTC. The HTC Shift features high-speed global connectivity with Tri-Band UMTS/HSDPA, Quad-Band GSM/GPRS/EDGE, Bluetooth 2.0 and Wi-Fi. Additionally, the HTC Shift leverages Windows Media Player 11 to provide access to music, videos and photos.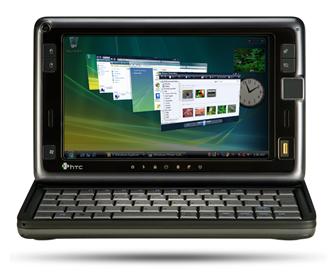 HTC Shift
Photo: Company