Albatron Technology has announced three new Nvidia GeForce 8-series GPU-based cards, the 8600GTS, 8600GT and 8500GT, which target the larger mainstream gaming market. Since the launch of the high-end 8800GTX GPU in November 2006, users who been waiting a long time to get their hands on an affordable DirectX 10 (DX10) supporting card, said the company.
In addition to DX10 which will allow support for improved visuals and effects in the latest games, the new cards feature PureVideo HD technology which delivers clarity, smooth video, and precise image scaling for all movies and videos. It also supports H.264, VC-1, WMV and MPEG 2 decoding and is able to offload 100% of Blu-Ray and HD DVD playback, leaving the CPU free to perform other tasks and reduce power consumption.
The 8600GTS and 8600GT cards come with dual DVI connectors, while the 8500GT comes with one DVI and one D-Sub connector. All three cards provide TV-Out and support SLI technology.
Albatron 8600GTS, 8600GT and 8500GT: Specifications

Card

GPU

Core Clock

Memory Type

Memory On-board

8600GTS

GeForce 8600GTS

675MHz

DDR3 2000MHz 128-bit

256 MB

8600GT

GeForce 8600GT

540MHz

DDR3 1400MHz 128-bit

256 MB

8500GT

GeForce 8500GT

450MHz

DDR2 800MHz 128-bit

256 MB
Source: Company, compiled by DigiTimes, April 2007
Albatron 8600GTS
Photo: Company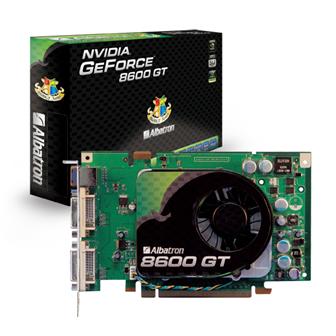 Albatron 8600GT
Photo: Company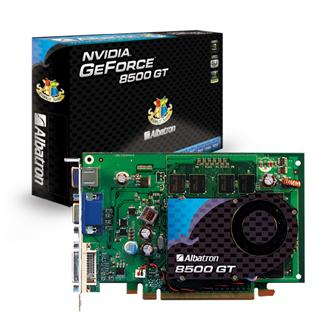 Albatron 8500GT
Photo: Company