Toshiba recently announced that its newest HD DVD player, the HD-A20, is now shipping to US retailers at a manufacturer's suggested retail price of of US$499.99.
With 1080p output capability, Toshiba's HD-A20 joins the existing Toshiba HD DVD line-up which includes the entry level HD-A2 and the top of the line, HD-XA2. The HD-A2, HD-A20 and HD-XA2 are all backward compatible, so users can continue to enjoy their libraries of current DVD and CD software.
All of Toshiba's HD DVD players feature interactive capabilities and an Ethernet port to support networking, to provide users with the potential to download content like streaming audio commentary, new audio languages and new HD trailers when a network-enabled HD DVD disc is played.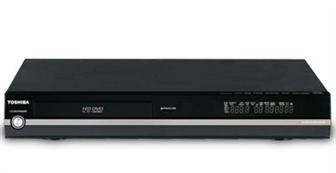 The Toshiba HD-A20 HD DVD player
Photo: Company