HTC introduces Shift and Advantage mobile computing devices
Press release, March 27; Eric Mah, DIGITIMES
High Tech Computer (HTC) on March 26 introduced its Shift and Advantage mobile computing devices.
The HTC Shift features a QWERTY-based keyboard design and 3G-connectivity. Similar in size to a couple of DVD cases, the HTC Shift comes with Windows Vista Business, and features a 7-inch widescreen touch display and a 30GB hard drive, according to the company. The HTC Shift features high-speed global connectivity with tri-band UMTS/HSDPA, Quad-Band GSM/GPRS/EDGE, Bluetooth 2.0 and Wi-Fi. The mobile computer leverages Windows Media Player 11 to provide easy access to music, videos and photos, according to HTC.
Developed from the ground up to be extremely portable, the HTC Advantage is based on Microsoft Windows Mobile 6 and includes Microsoft Office Outlook Mobile for quick access to email, calendar and contacts and Microsoft Office Mobile enabling the creation and editing of Microsoft Office documents. The HTC Advantage includes a thin, magnetically connected QWERTY keyboard and connectivity with Tri-Band UMTS/HSDPA, Quad-Band GSM/GPRS/EDGE, Bluetooth 2.0 and Wi-Fi, stated the company. In addition, the HTC Advantage enables navigation capabilities with built-in GPS navigation. Other features include a 5-inch VGA touch display, 8GB hard disk, 256MB of ROM, 128MB of RAM, miniSD card slot, HTC VueFLO for easy navigation and a 3.5mm Stereo audio jack.¡@
The HTC Advantage will be available through Amazon.com and other retailers summer 2007. The HTC Shift will be available in the US and Europe in the third quarter of 2007. Additional details, including specifications, pricing and availability will be announced when available.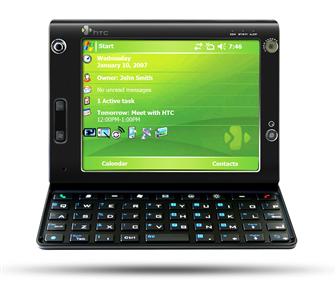 The HTC Advantage
Photo: Company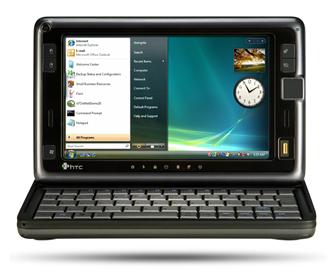 The HTC Shift
Photo: Company