Walton Chaintech has announced the Nvidia GeForce 8800 GTS-based GAE88GTS-A1 with 320MB GDDR3 memory, offering the highest levels of sophisticated game rendering at the most substantial price, says the company.
The GAE88GTS-A1 features 96 stream processors as well as support for HDCP (High-bandwidth Digital Content Protection), providing high-definition home theater experiences, notes Chaintech. Additionally, the card is equipped with the world's first DirectX 10 GPU, which adopts the latest Unified Shader architecture and full support for Shader Model 4.0, the company adds. By utilizing DirectX 10, the GAE88GTS-A1 is able to deliver realistic gaming effects and lets users take full advantage of all the features Microsoft Windows Vista Premium has to offer, including the new Aero interface, according to Chaintech.
Positioned to target the high-end market, the GAE88GTS-A1 features Nvidia's latest advanced technologies including GigaThread Technology, which, through the use of a massively multi-threaded architecture, is able to create thousands of independent, simultaneous threads, providing extreme processing efficiency for advanced, next generation shader programs, says Chaintech. Furthermore, the GAE88GTS-A1 supports Nvidia's Quantum Effects Technology, enabling a new level of physics effects to be simulated and rendered on the GPU, the company adds. The card also features the Lumenex engine, which introduces 16x Anti-aliasing and 128-bit floating point High-Dynamic-Range (HDR) rendering for the most realistic lighting effects, Chaintech adds.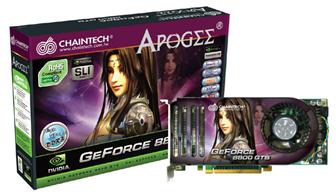 Chaintech's Nvidia GeForce 8800 GTS-based GAE88GTS-A1 with 320MB GDDR3 memory
Photo: Company