D-Link shipping 3G mobile broadband wireless routers
Press release, February 6; Eric Mah, DIGITIMES
D-Link on February 5 unveiled a family of 3G mobile broadband wireless routers designed to access and share an Internet connection virtually anywhere by blending Wi-Fi networking technology and a wireless broadband network. The D-Link 3G Mobile Wireless Routers allow users to create a 802.11b/g-compatible wireless hotspot anywhere within range of a cellular network.
By plugging a compatible 3G notebook adapter into the D-Link 3G Mobile Router's built-in card bus slot, users can get immediate access to EV-DO, UMTS or HSDPA networks, according to D-Link, adding that the router can then share this signal via 802.11g/b Wi-Fi technology to notebooks, PCs or other Wi-Fi-enabled devices. The D-Link routers are available in two versions: the DIR-450 (EV-DO) and DIR-451 (UMTS/HSDPA).
For security, both versions of the 3G mobile router support wireless security features to prevent unauthorized access, including WEP, WPA and WPA2 that ensure a secure Wi-Fi network regardless of the connected devices, claims D-Link. They also employ dual active firewalls (SPI and NAT) to prevent potential Internet attacks.
The D-Link Mobile Wireless Routers can be installed as a wireless network in minutes, and it can easily configure the user's Internet Service Provider (ISP) settings to quickly establish high-speed Internet connectivity, according to D-Link. The built-in 4-port full-duplex 10/100 switch allows seamless connection of Ethernet-based devices.
Advanced firewall features include Network Address Translation (NAT); Media Access Control (MAC) and Internet Protocol (IP) addresses and Website filtering; scheduling and Virtual Private Network (VPN) pass-through via Point-to-Point Tunneling Protocol (PPTP) and Layer 2 Protocol Tunneling (L2PT) and IP Security (IPSec).
Other key features of the wireless routers include: Built-in 10/100Mbps switch that allows users to connect up to four wired Ethernet-enabled networking devices; integrated 802.11g access point (AP) for wireless LAN support; 16/32-bit PCMCIA slot WAN interface for mobile broadband connection; integrated 802.11b/g wireless access point with detachable antenna allows connection of booster antenna; static and dynamic routing simplifies IP addressing on local network; support for Universal Plug and Play (UPnP) for easy device discovery on local network; Integrated web interface allows configuration through PC web browser; and support for Network Time Protocol (NTP) for synchronizing with a real-time server to keep accurate time.
Without a mobile broadband connection data card, the DIR-450 and DIR-451 work as standard 802.11g wireless routers, such as the D-Link RangeBooster G models, said D-Link.
The DIR-450 model of the D-Link Mobile Wireless Routers is available now at a suggested retail price of US$299.99. The DIR-451 is targeted to begin shipping later in the first quarter 2007 with pricing to be announced at that time, according to D-Link.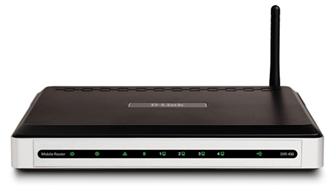 The D-Link DIR-450 wireless broadband router
Photo: Company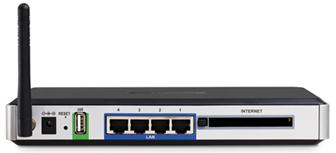 The D-Link DIR-450 wireless broadband router (back view)
Photo: Company