ViewSonic has quietly added a 17-inch widescreen LCD monitor to its widescreen monitor portfolio. With a manufacturer's suggested retail price (MSRP) of US$205, the model (VA1703wb) has a resolution of 1,440×900, a contrast ratio of 500:1, a brightness of 250cd/m2 and a response time of 8ms, according to the company's website.
During CES 2007, which ran from January 8-11 in Las Vegas, ViewSonic exhibited two new large-size widescreen LCD monitors, including one 24-inch VX2435wm and the 28-inch (27.5 viewable) VX2835wm. Priced at US$699 and US$879 respectively, the 24-inch widescreen monitor will be available in February and the VX2835wm will hit the market in April, according to ViewSonic.
Features of the two large-size widescreen monitors include a response time of 8ms, a native resolution of 1,920×1,200, a brightness of 500nits and a contrast ratio of 1,000:1, said ViewSonic.
With three new models, ViewSonic's full lines of widescreen LCD monitors will expand to cover the 17-, 19-, 20-, 22-, 23, 24- and 28-inch segments.
Key specification of ViewSonic new widescreen LCD monitors

Model number

VA1703wb

VX2435wm

VX2835wm

Screen size (inches)

17

24

28

Resolution

1,440x900

1,920×1,200

1,920×1,200

Contrast ratio

500:1

1,000:1

1,000:1

Brightness (cd/m2)

250

500

500

Response time

8ms

8ms

8ms

Pricing (US$)

205

699

879
Source: Company, compiled by DigiTimes, January 2007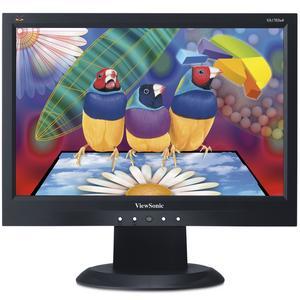 ViewSonic's new 17-inch widescreen monitor
Source: Company