D-Link draft 802.11n router Vista ready
Press release, January 5; Steve Shen, DIGITIMES
D-Link announced early this week that its latest wireless home network router – the Xtreme N Gigabit DIR-655 – has earned the right to display Microsoft's Works with Windows Vista logo, ensuring that customers have an optimal experience when using the router with computers running the Windows Vista operating system. The new Xtreme N Gigabit router will be available starting on January 30, according to the company.
Display of the Works with Windows Vista logo on its packaging and promotional materials allows D-Link to assure potential buyers that the Xtreme N Gigabit DIR-655 router complies with the new features of Windows Vista, including increased stability and mobility, enhanced security, improved graphics, greater support for file sharing, data management, multimedia streaming in a home or small office environment, and gaming, the company said.
The D-Link Xtreme N Gigabit router and its accompanying Xtreme N desktop and notebook adapters are designed for consumers, small businesses and gamers who demand the highest performance possible from their wireless networks, especially in larger homes and offices with high-speed Internet access and multiple PCs, game consoles and media players.
With faster speeds and farther coverage than standard 802.11g wireless technology products, the D-Link Xtreme N Gigabit router is the industry's first Draft N router to incorporate intelligent wireless quality of service (QoS) technology that prioritizes wired and wireless data traffic, allowing users to stream HD video or multiple applications simultaneously and experience lag-free gaming and jitter-free voice over Internet (VoIP) calls, according to D-Link.
The D-Link DIR-655 router also is the first to offer both 4-port 10/100/1000 Gigabit local area network (LAN) and wide area network (WAN) ports, an integrated wireless security wizard, Windows Connect Now (WCN) support, removable antennas for flexible installation and a wall-mount option, the company said.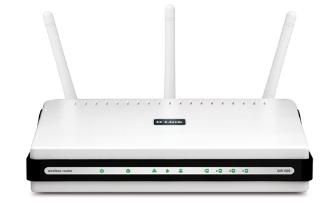 The D-Link Xtreme N Gigabit DIR-655 wireless router
Photo: Company