Albatron releases 8800GTX/GTS graphics cards
Press release, November 9; Rodney Chan, DIGITIMES
Albatron Technology announced its latest performance cards, the 8800GTX and 8800GTS, featuring support for the DirectX 10 standard that promises a faster, more exciting gaming experience for the market, according to the company.
The 8800GTX features the Nvidia GeForce 8800GTX GPU (graphics processing unit) while the 8800GTS has the Nvidia GeForce 8800 GTS GPU. In short, the 8800GTX GPU has more horsepower than the 8800GTS, according to Albatron.
The 8800GTX will also bear a longer footprint than the 8800GTS at 280mm versus 241.9mm. The 8800GTX is expected to run several hundred dollars (USD) more than the 8800GTS, said the company.
Both of these cards use PCI-Express, SLI compliant and include Nvidia's PureVideo technology and support HDR (High Dynamic Range lighting). These cards also support High Definition H2.64, MPEG-2, WMV hardware acceleration and High-Quality Scaling. They will support dual-link DVI ports supporting two displays with resolutions up to 2560×1600, according to Albatron.
Aside from the driver CD and install guide, both of these cards will also come with an HDTV cable (S-video and composite out), S-Video 4-pin Cable, AV cable and DVI adapter.
Albatron's new graphics cards

Item

8800 GTX

8800 GTS

Stream Processors

128

96

Core clock

575MHz

500MHz

Shader clock

1350MHz

1200MHz

Memory clock

900MHz

800MHz

Memory amount

768 (DDRIII)

640 (DDRIII)

Memory interface

384-bit

320-bit

Memory bandwidth

86.4

64

Texture fill rate

36.8

24
Source: Company, compiled by DigiTimes.com, November 2006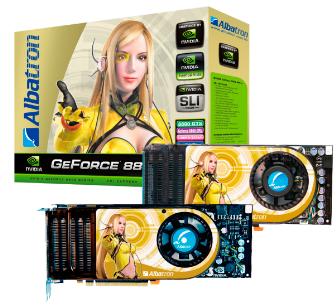 Albatron's 8800GTX and 8800GTS graphics cards
Photo: Company