Nvidia has released its GeForce Go 7950 GTX graphics processing unit (GPU), claiming it to be the world's fastest notebook GPU on the market.
The new flagship GeForce Go 7950 GTX GPU supports the latest games and applications with DirectX 9.0, Shader Model 3.0 and film quality high dynamic range (HDR) lighting, delivering vivid realism to HD games, according to the company.
The GeForce Go 7950 GTX features GPU acceleration of HD video formats like H.264 through Nvidia PureVideo technology and incorporates Nvidia PowerMizer technology which allows advanced power management features.
"2006 is a phenomenal year of growth and technology leadership for Nvidia notebook GPUs. The efficient Nvidia GeForce 7 series GPU architecture continues to deliver the ultimate visual experience in notebooks of every class – from lightweight ultra-portables to HD DVD multimedia machines," says Jeff Fisher, senior vice president of the GPU Business Unit at Nvidia. "Notebooks based on our flagship GeForce Go 7950 GTX GPU will deliver the premiere visceral experience for gamers."
Gamers can experience the power of this new GPU in Dell notebooks at DigitalLife 2006 in New York City. "Dell is fully committed to delivering the most intensely realistic gaming and entertainment experience to PC gamers," said Brett Faulk, director of Inspiron and mobile XPS product marketing. "Dell XPS notebooks have swept the awards thanks to their sheer gaming performance and the Dell XPS M1710 with GeForce Go 7950 GTX is our best yet."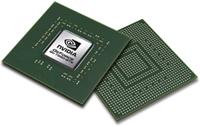 The Nvidia GeForce Go 7950 GTX GPU
Photo: Company