Panasonic has unveiled what it claims is the world's first Blu-ray Disc (BD) recorders that can play back BD-Video discs. The Blu-ray DIGA DMR-BW200 and DMR-BR100 can record high-definition (HD) imagery on BD-RE rewritable discs and dub from the built-in hard-disk drive (HDD) to BD discs at 4x speed without compromising video or audio quality, according to the company. Packed with innovative features, the new BD recorders will first be available in Japan from November 15, stated Panasonic.
The new models support single-layer 25GB and dual-layer 50GB BD discs (BD-RE and BD-R). Users can record up to six hours of HD programs on a 50GB BD disc. In addition, the DMR-BW200 and DMR-BR100 come with a built-in HDD with 500GB and 200GB capacity, respectively.
The DMR-BW200 is equipped with a total of seven TV tuners including two tuners each for terrestrial, BS and 110-degree CS digital broadcasts and one analogue TV tuner. This enables users to record two digital TV programs simultaneously on the HDD. Users can also record one program on the HDD while recording one on a BD-RE disc.
Both the DMR-BW200 and DMR-BR100 can record and reproduce images in high quality. The new DIGAs' image processing engines include Panasonic's own HD Optimizer that automatically detects and suppresses noise that is unique to digital broadcasting. The engines also incorporate a video converter that can record images with details when down-converting from HD to SD (standard definition) to store on DVD discs. The reverse is also the case—when connected to a TV via an HDMI cable, the converter can up-convert SD content to HD to reproduce high resolution images.
The two models feature Playback Navigation that can automatically sort programs recorded using weekly or daily programmed recording function into appropriate folders. They also provide easy operation with VIERA Link single remote control. When used with other home theater components that support the VIERA Link, users can operate the components including a recorder, TV and home theater receiver with just one remote.
In addition, the DMR-BW200 supports i.LINK that enables users to copy D-VHS high-definition videos onto the built-in HDD. Users can create a library of high-definition videos by transferring from the HDD to BD discs. The two models also have an SD memory card slot to provide connectivity with other SD enabled products.
All these innovative features are packed in a compact form of 430×85×330mm. The 85mm height is the thinnest in the industry and the compact and slim design matches perfectly with flat-panel TVs, according to the company.
The DMR-BW200 and DMR-BR100 support a variety of media including HDD, BD-RE, BD-R, DVD-RAM, DVD-R, DVD-R DL and DVD-RW for recording, and HDD, BD-RE, BD-R, DVD-RAM, DVD-R, +R, DVD-R DL, +R DL, DVD-RW, +RW, DVD-Video, BD-Video, music CD, CD-R and CD-RW for playback.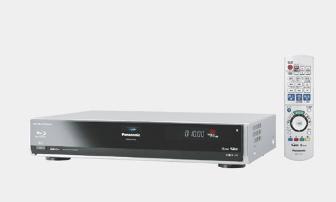 Panasonic DMR-BR100
Source: Company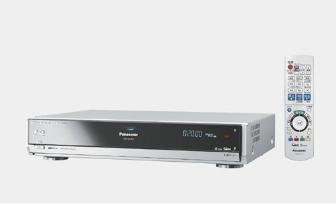 Panasonic DMR-BW200
Source: Company