Acer is set to showcase its lineup of high-definition (HD) notebooks at Computex Taipei 2006, including the new Aspire series that feature 15.4- and 17-inch displays for the mainstream and multimedia segments and the Aspire 9800, which sports a 20.1-inch screen to meet entertainment needs.
The HD solution includes the HD-DVD-ROM drive will allows for much improved screen response time, brightness and audio capabilities, according to the company. Acer's HD notebooks are also equipped with HDMI and HDCP support for projecting HD movies and gaming to LCD TVs, said the company.
HD-DVD technology supports 13 types of optical media formats as well as the DVD Super-Multi drive for advanced capability – with up to six times the image quality of standard DVD movies – and complete backward compatibility, the company noted. Exceptional HD viewing supports the highest quality HDTV of 1920x1080 pixels, subset recognition through SDTV, and CIF of 320x240 pixels, the company indicated.
Acer Aspire notebook series specifications

Item

Aspire 9800

Aspire 9510

Aspire 5670

Aspire 9110

CPU

Intel Core Duo

Chipset

945PM

Display

20.1-inch WXSGA TFT, 1680x1050 pixels

17-inch LCD

15.4-inch WXGA TFT with 16ms response-time

15.4-inch WXGA TFT

Graphics

Nvidia GeForce Go 7600

Nvidia GeForce Go 7900 GS

ATI Mobility Radeon X1400

Nvidia GeForce Go 7600

System memory

667MHz DDR2 (up to 2GB)

667MHz DDR2 (up to 4GB)

533/667MHz DDR2 (up to 2GB)

533/667MHz DDR2 (up to 2GB)

Memory

256MB GDDR2 VRAM

512 MB GDDR3

128 MB GDDR2 VRAM (up to 384MB of shared system memory)

256 MB GDDR2 VRAM

HDD memory

One or two 80/100/120GB SATA (up to 240GB, 5400 rpm)

240GB SATA (up to 240GB)

80/100/120GB SATA (up to 120GB)

80/100/120GB SATA

ODD

8x slot-load DVD-Super Multi double-layer drive

-

8X slot-load DVD-Super Multi double-layer

1X HD DVD-ROM drive or 8X slot-load DVD-Super Multi double-layer drive

Dimension

475x352x61.8mm

-

364x274.75x28/36.3mm

358x270x 33mm

Weight

7.8kg with TV-tuner and 2nd hard disk drive

-

3.0kg with TV-tuner

2.98kg with TV-tuner

Photo
Source: Company, compiled by DigiTimes, June 2006
In addition to the HD-notebooks, Acer will showcase its Ferrari 5000 and Ferrari 1000 series based on the AMD Turion 64 X2 CPU, during the IT trade show. The models are crafted with a thin and light carbon fiber casing – styled in black and the exclusive "Ferrari red" – with the Ferrari 1000 featuring a 12.1-inch screen and the Ferrari 5000 having a 15.4-inch screen size.
Bundled with an Acer Bluetooth VoIP (voice-over IP) phone, the Ferrari 5000 also exploits the potential of visual communication with the Acer Video Conference solution that consists of an Acer OrbiCam, a 1.3-megapixel webcamera mounted at the top of the LCD panel. The model is also built with 802.11a/b/g Wi-Fi connectivity , WPAN with built-in Bluetooth 2.0 module, LAN connection with Gigabit Ethernet cards and standard connectivity through the integrated 56K ITU V.92 modem.
The Ferrari 5000 offers a HDD of up to 160GB and a choice between a slot-loading DVD-Super Multi double-layer drive or the latest generation HD-DVD drive.
Weighing in at 1.7kg, the Ferrari 1000 features the ATI Radeon Xpress 1150 chipset for up to 512MB of HyperMemory graphics.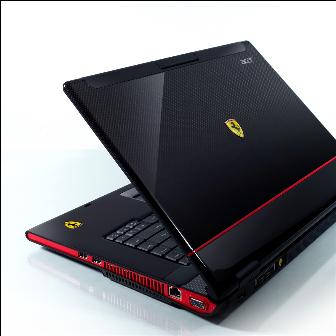 The Acer Ferrari 5000 notebook
Source: Company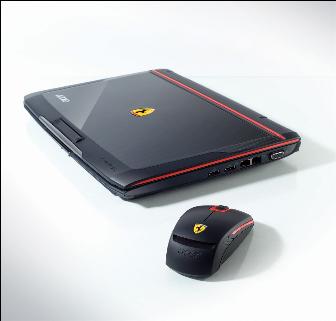 The Acer Ferrari 1000 notebook
Source: Company