The growing popularity of reusable energy has prompted Taiwan-based A-Data Technology and Micro-Star International (MSI) to introduce solar cells into their latest flash-based memory devices.
A-Data is launching the Solar Disk thumb drive equipped with a solar cell module at CeBIT in Germany. The drive does not have a built-in battery and the solar cell module powers its LCD display to show remaining capacity. The product supports USB 1.1/2.0 connectivity and it is expected to be generally available in April. It will come in 128MB, 25MB, 512MB, 1GB and 2GB models.
MSI will be showing a solar cell-equipped MP3 player at the show. This concept MP3 player uses the solar module to charge the built-in lithium battery and provide supplementary power to extend battery life. Solely relying on the solar cell to charge the battery would take two days under ordinary outdoor light and a fully charged battery allows ten hours of playback. MSI plans to move this product into mass production in time for Computex and the device will use a solar module supplied by a local solar cell maker.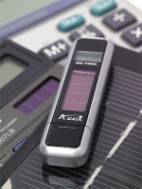 A-Data Solar Disk flash disk drive with solar power.
Photo: Company.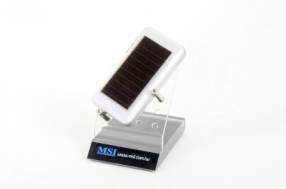 MSI's solar cell MP3 player (concept model).
Photo: company.