Albatron today announced that its GeForce 7800GT VGA card will be bundled with online war-game software "Call of Duty 2," with availability starting from this month.
The GeForce 7800GT VGA card is all "PCI Express (PCIe)" and features the Nvidia GeForce 7800 GT GPU, which boasts 400 MHz in core speed, said Albatron, adding that this card has also been endowed with 256 MB of speedy 1000 MHz, DDR3 memory using a 256-bit bus.
The Nvidia GeForce 7800 GT series is also equipped with the latest Intellisample 4.0, Ultrashadow II, CineFXTM 4.0, for bringing the most graphically demanding and popular games on the market, claims Albatron. This GPU also features Nvidia's PureVideo, a full featured video encoder/decoder producing the finest quality video playback for a variety of formats including HDTV, noted the graphics card maker.
The Albatron GeForce 7800GT will provide TV-out, DVI and VIVO connectors, said the comapny, adding that the bundle package will include an HDTV cable that also supports S-Video and AV connectors. The card will also include the full "Call of Duty 2" software package, with a retail price tag of about US$40, noted the company.
"Call of Duty 2" is the sequel version to the original "Call of Duty" gaming software that was awarded numerous "Game of the Year" awards, according to Albatron, adding that the WWII epic features some of the most exhilarating, full-on action battle engagements ever depicted in a PC game.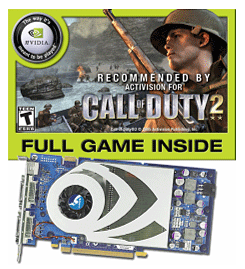 Albatron GeForce 7800GT geared-up, battle-ready for "Call of Duty 2"
Source: Company