Albatron Technology recently announced the 512MB version of its GeForce 6600 and 6600LE PCI Express (PCIe) graphics cards, with prices similar to equivalent 256MB cards. Availabilities of the 6600 512 and 6600LE 512 series are slated for the middle of December, according to the company.
In addition to 512MB of DDR2 memory, the 6600 512 and 6600LE 512 cards support 350MHz in core clock speed, 533MHz in memory clock speed, and a 128-bit memory bus, said Albatron. At the time of this writing, the two cards were boasting more on-board memory (512 MB) for a VGA card than any other card currently on the market, claimed Albatron.
Powered by the Nvidia GeForce 6600 GPU series, Albatron's 6600 and 6600LE series provide complete support for DirectX 9.0 and Shader Model 3.0 optimizing compatibility with the most popular 3D gaming software. With D-Sub and DVI connectors, the 6600 512 bundles an HDTV cable that contains S-Video and AV connectors.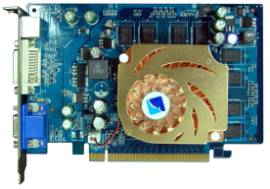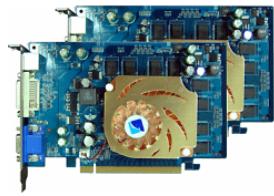 The Albatron GeForce 6600 and 6600LE graphics card
Source: Company
Albatron: October 2004 - October 2005 revenues (NT$m)

Month

Sales

M/M

Y/Y

YTD

Y/Y

Oct-05

261

13.5%

(44.6%)

2,530

(38.2%)

Sep-05

230

3.4%

(52.5%)

2,269

(37.4%)

Aug-05

222

(15.5%)

(39.4%)

2,039

(35.1%)

Jul-05

263

127%

(40.7%)

1,817

(34.5%)

Jun-05

116

(42.9%)

(41.7%)

1,554

(33.3%)

May-05

203

(23.4%)

(28.7%)

1,438

(32.6%)

Apr-05

265

(16.4%)

(43.7%)

1,235

(33.2%)

Mar-05

317

9.7%

(36.3%)

970

(29.6%)

Feb-05

289

(20.7%)

(34.2%)

653

(25.9%)

Jan-05

364

8.1%

(17.6%)

364

(17.6%)

Dec-04

337

(34.2%)

(25.9%)

4,943

(9.3%)

Nov-04

512

8.9%

9.4%

4,607

(7.8%)

Oct-04

470

(2.7%)

(26%)

4,095

(9.5%)
*Figures are not consolidated
Source: TSE, compiled by DIGITIMES Asia, December 2005
Albatron: 3Q 2004 - 3Q 2005 revenues (NT$m)

Quarter

Sales

Q/Q

Y/Y

YTD

Y/Y

3Q-05

715

22.4%

(44.7%)

2,269

(37.4%)

2Q-05

584

(39.8%)

(38.7%)

1,554

(33.3%)

1Q-05

970

(26.4%)

(29.6%)

970

(29.6%)

4Q-04

1,319

2%

(15.4%)

4,943

(9.3%)

3Q-04

1,293

35.7%

(17.6%)

3,624

(6.8%)
*Figures are not consolidated
Source: TSE, compiled by DIGITIMES Asia, December 2005
Albatron: 3Q 2004 - 3Q 2005 balance sheet (NT$k)

Item

3Q-2005

2Q-2005

1Q-2005

4Q-2004

3Q-2004

Current assets

1,352,863

1,219,631

1,754,818

1,926,408

2,104,859

Long-term investments

22,496

22,496

22,496

22,496

18,142

Fixed assets (net)

171,263

223,261

227,187

231,122

233,928

Other assets

13,779

9,081

10,274

12,014

9,806

Assets

1,560,401

1,474,469

2,014,775

2,192,040

2,366,735

Current liabilities

685,391

766,463

1,666,086

1,784,120

1,909,872

Noncurrent interest-bearing liabilities

0

0

0

Other liabilities

740,030

516,367

93,298

80,980

32,886

Liabilities

1,425,421

1,282,830

1,759,384

1,865,100

1,942,758

Stockholders' equity

134,980

191,639

255,391

326,940

423,977
*Figures are not consolidated
Source: TSE, compiled by DIGITIMES Asia, December 2005
Albatron: 3Q 2004 - 3Q 2005 income statement (NT$k)

Item

3Q-2005

2Q-2005

1Q-2005

4Q-2004

3Q-2004

NT$k

% of sales

NT$k

% of sales

NT$k

% of sales

NT$k

% of sales

NT$k

% of sales

Gross sales

738,335

592,990

980,763

1,343,922

1,314,978

Operating revenue

714,767

96.8%

583,932

98.5%

970,243

98.9%

1,318,747

98.1%

1,293,014

98.3%

Gross profit (loss) from operations

19,556

2.6%

-1,990

-0.3%

-661

-0.1%

40,907

3%

13,740

1%

Operating expenses

59,145

8%

55,134

9.3%

53,618

5.5%

64,294

4.8%

66,183

5%

Operating income (loss)

-40,774

-5.5%

-55,381

-9.3%

-52,312

-5.3%

-20,832

-1.6%

-50,080

-3.8%

Non-operating revenues and gains

9,345

1.3%

4,571

0.8%

7,835

0.8%

7,503

0.6%

2,779

0.2%

Non-operating expenses and losses

20,774

2.8%

8,591

1.4%

28,132

2.9%

77,393

5.8%

24,228

1.8%

Income from continuing operations before income tax

-52,203

-7.1%

-59,401

-10%

-72,609

-7.4%

-90,722

-6.8%

-71,529

-5.4%

Net income (loss)

-52,203

-7.1%

-64,401

-10.9%

-72,609

-7.4%

-100,722

-7.5%

-112,280

-8.5%

Fully-diluted earnings per share (NT$)

0

0

0

0
*Figures are not consolidated
Source: TSE, compiled by DIGITIMES Asia, December 2005