Motherboard maker and Pentium M desktop specialist AOpen introduced a Pentium M-based mini PC, codenamed Pandora, at Computex 2005, with the Wintel-based small-form-factor (SFF) PC matching the Apple Mac mini in size, performance and price, according to sources at the company.
The AOpen mini PC system, which measures 15cm by 15cm and is only 5 cm high, is powered by the Intel Pentium M processor running at 1.3GHz or 1.6GHz and is supported by the mobile 915GM chipset with integrated GMA 900 graphics.
With a target price of US$499-699 for entry-level models, the system will be the most competitive Pentium M desktop solution on the market, the sources pointed out. The sources added that the current challenge of hitting the US$499 target price is more of a software issue than a hardware issue.
The system will include a 2.5-inch hard drive and slide-in optical drive, which will vary among a combo drive, DVD-ROM and DVD burner, depending on the SKU, the sources explained. A wireless mini-PCI 802.11 a/b/g wireless communication module will also be included, as well as Bluetooth support on higher-end models. The system will also have two USB ports and one IEEE 1394 port, thought the sources stated that the company has not yet finalized the specifications.
AOpen will target the digital home with the system, and has included DVI, S-Video, and YPbPr outputs for connecting to HDTVs, plasma displays, large screen displays, and high definition audio products, stated Tony Yang, marketing director of AOpen. The system is also designed for low-noise environments, and so has only two fans and is powered by an external 85-watt power supply.
AOpen claims the product was developed in cooperation with Intel, and will hit the market by the end of the third quarter. In addition to marketing the system under its own brand, AOpen is also considering OEM opportunities.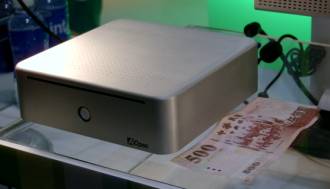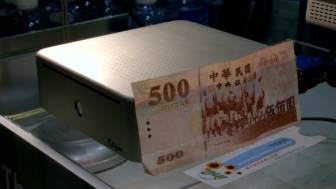 AOpen Mini PC
Photo: Michael McManus