Although small-form-factor (SFF) PC vendors do not in general offer customers the option of purchasing motherboard for upgrading their systems, Shuttle is displaying a number of XPC accessories at Computex 2005 to enhance and expand its current XPCs on the market, including a slim 300-watt power for its G-chassis, according to Ken Huang, chief architect of the XPC platform.
The slim 300-watt power supply is designed for the company's G-chassis, which currently supports 200- and 250-watt power supplies and is used in a number of the company's mainstream and business XPC models, according to a Geoffrey Egger, a Shuttle marketing representative watching over the Computex show.
In addition to targeting users that wish to max out their systems, Shuttle is looking to offer its distributors in the channel more flexibility with their SKUs, Egger explained.
In that regard, Shuttle is also showcasing other XPC accessories including extended storage enclosures for supporting external 3.5-inch or 5.25-inch IDE drives, its CR40 16X DVD drive, a clip-on wireless LAN module for its P- and I-chassis and expansion kits for adding parallel and USB ports to XPCs.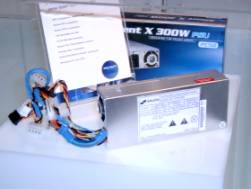 Shuttle slim 300-watt power supply
Photo: Michael McManus, DigiTimes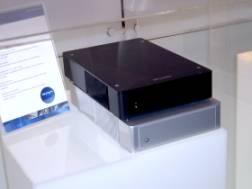 Shuttle XPC external storage enclosures
Photo: Michael McManus, DigiTimes