Handset maker Wistron NeWeb (WNC) and Senao International, a handset distributor and a wireless phone manufacturer, introduced wireless IP phones supporting WiFi at Computex 2005.
WNC is displaying a clamshell-design wireless IP phone that supports the IEEE802.11b standard at the show. The phone has no codename and will be shipped as an ODM product, according to the company.
Senao International has introduced a series of IP phones, which use chips from Atmel Semiconductor, at the exhibition. Although IP phones usually only support the 802.11b standard, Senao's lineup of IP phones offer 802.11a/b/g support, as well as supporting up to five-line conference calls.
In related news, Asustek Computer, BenQ, Gigabyte Technology and Micro-Star International (MSI) plan to develop Wi-Fi IP phones in the second half of 2005, according to market sources.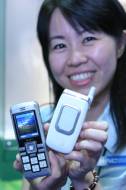 WNC WiFi IP phone
Photo: Daniel Shen, DigiTimes