Arima Computer has launched the SW500 server board and SW5001U barebone system, which adopt dual-core AMD Opteron 800 Series CPUs in a 4-way configuration, for the demanding four-way 64-bit architecture server market. The board and barebone system are moving into mass production this quarter, according to the company.
The SW500 is equipped with Broadcom's HT-2000 and HT-1000 server I/O chipsets with a HyperTransport throughput of 2000MT/s. The board also supports up to 64GB of DDR400 registered memory with ECC support.
In addition to dual 10 Gb/s InfiniBand ports on a PCIe interface, the SW500 has four integrated SATA2 ports with RAID 0, 1, and 1+0 support and provides optional Ultra 320 SCSI as well.
The integrated 2Gb Ethernet ports provides teaming with load balancing and fail over capability. It also provides an independent Gb Ethernet controller for a server management daughter card.
The SW500 board is also available in a 1U barebone, the SW5001U, which offers a SCSI backplane with two hot swappable drive bays. It can also accommodate one riser card on one full size PCIe 8x or PCI-X 133MHz interface.
For more information, visit Arima in Hall 2 at booth F184 or go to the company website: http://www.arima.com.tw.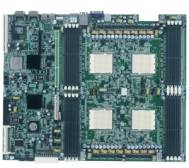 Arima's SW500 4-way Opteron motherboard
Photo: Company.