Foxconn Electronics (the registered trade name of Hon Hai Precision Industry) will showcase a super-slim small-form-factor (SFF) PC and its own-brand motherboards during Computex 2005, which runs from tomorrow through June 4, according to Christin Wang, global marketing sales manager of Foxconn's Channel Service Division.
Foxconn's SFF PC will feature a super-slim footprint and the entire system can be hung on the wall noted Wang. The new SFF PC will is codenamed TucaAway, Wang added.
In addition to motherboards and SFF PCs, Foxconn will showcase components including chassis and heat dissipation units during the exhibition, Wang added.
Foxconn began its own-brand motherboard sales through channel distributors last year, and the products are currently distributed by Ingram Micro and Tech Data worldwide and Weblink International in Taiwan, Wang pointed out.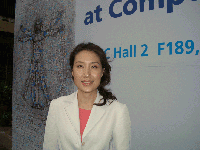 Christin Wang, global marketing sales manager of the Channel Service Division at Foxconn
Photo: Charles Chou, DigiTimes.