With the recent introduction of its i915GME desktop motherboard for the Intel Pentium M processor, AOpen has shown that it is committed to developing the market for Pentium M desktop motherboards, especially in Japan.
AOpen was the first to introduce a Pentium M desktop board, the i855GMEm-LFS, which hit the market in the fourth quarter of 2004. Now, with the i915GME, AOpen is the first to introduce a PCI Express (PCIe) enabled Pentium M desktop motherboard.
The board has all the bell and whistles expected from a PCIe motherboard, including one PCIe x16 slot, one PCIe x1 slot, SATA 2 support and integrated DirectX9 graphics. In addition AOpen has tweaked the design so that the board can support DDR memory, even though the 915GM chipset only supports DDR2 when used in notebooks, according to sources at AOpen.
Of course the big selling point of the desktop motherboard is its support for Pentium M CPUs. Mobile CPUs run a lot cooler than desktop CPUs, with AOpen stating that the power consumption of the Pentium M processor is only one fourth that of the Intel desktop LGA775 Pentium 4 processor.
For vendors looking to design compact systems, a Pentium M board provides an ideal starting point, as thermal issues are much easier to avoid. AOpen has already shown that these boards can be used in small-form-factor (SFF) PCs and the company is planning even more compact designs, though the release of its MZ 855 SFF PC has been delayed until the end of April, according to the company.
AOpen also seems to grasp the fact that, since this is a brand new market, much of the innovation will come from the market itself. So, the company has thrown a slew of features onto the i915GME motherboard, almost as a challenge to its customers to come up with something innovative. The i915GME features dual Gigabit PCI Express LAN and Intel high definition audio 7.1, while supporting DVI, YPbPr (for connecting to HDTVs), D-Sub, S-Video and a D-connector option for connecting to displays. The motherboard also has two standard PCI slots.
However, users looking at Pentium M boards as possible building blocks for Windows-based Mac-mini types of products may have to pass on the i915GME, as it will have a street price of about US$300, according to sources at the company.
Although AOpen has stated its desktop Pentium M motherboards are currently available globally, sources at the company noted that AOpen will focus its sales on Japan. Industry sources agreed that Japan will end up being the test market for Pentium M desktop systems. Intel has made more Pentium M CPUs available in the channel there, and users are willing to pay more for a system that meets their requirements, which in Japan tends to be a need for something compact and quiet.
AOpen may be the right vendor for the Japan maker as well. Although the company stated it shipped about 100,000 XC Cube small-form-factor (SFF) PCs last year – compared to about 600,000 for Shuttle – it was the number one SFF barebones vendor in Japan.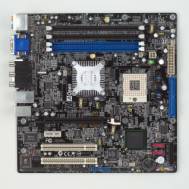 AOpen i915GMm-HFS Pentium M desktop motherboard
Photo: Company