To promote the first production run of its PCIe-enabled pico-BTX XPC model SB86i, Shuttle Computer will bundle a free BTX CPU cooler with each barebones system, according to sources. Although the sources claimed the 5000 units will begin shipping next week, the company refuted the claim and stated that the systems will not begin shipping until mid-December, although they will be available in retail outlets before Christmas.
The first shipments will mostly be to the US and European markets, the company added.
According to a Shuttle press release, the SB86i XPC will be the first commercial application of the pico-BTX design specification. The barebones system is built around the Intel 915G chipset, which integrates Intel's Graphics Media Accelerator 900 and features Microsoft DirectX9 support. The SB86i XPC will also support 16x PCIe graphics cards.
Intel launched channel sales of its BTX products on November 15. Before then, BTX based PCs had been only available through OEMs.
Intel claims it introduced the BTX form factor to meet the growing need for smaller, sleeker and cooler PCs. Compared to ATX motherboards, BTX boards will run cooler and quieter since the improved motherboard layout and chassis design deliver an increased airflow to high-power components and require fewer fans and lower fan speeds, an Intel press release stated.
Shuttle estimates that 20% of its XPC shipments this year will be PCIe systems, while 80% will be AGP-based. The company expects to increase its ratio of PCIe systems to 50% next year. Intel-based systems will account for 65% of the company's XPC shipments this year, the company added.
In related news, Shuttle confirmed that it will debut its 16x DVD Dual DL burners next week. The burner will be available in assorted colors, including white, silver and black and will be sold separately, as opposed to bundled with the company's XPC barebones systems.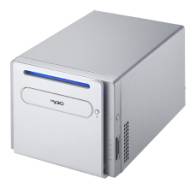 Shuttle XPC-SB86i
Photo: Shuttle Taiwan.

Shuttle 16x DVD Dual DL burner-CD40
Photo: Shuttle Taiwan.