Memory module makers including Kingston Technology, A-Data Technology, Apacer Technology, Pretec, Kingmax Digital, Walton Chaintech and Team Group, as well as leading DRAM maker Qimonda will be showcasing the a number of new memory products at Computex 2007, including DDR3 at speeds up to 1500MHz, GDDR3 graphics DRAM, flash-based solid state drives (SDDs), and the Taiwan-developed miCARD platform that combines MMC and USB functionality.
DRAM: DDR3 to make a splash
With support for DDR3 technology expected to be officially launched at Computex, memory module makers are showcasing the technology, as it offers significant memory performance gains over the previous generation, while performing at a lower voltage and consuming less power.
At the Kingston Technology booth, the company will have a live demonstration of its new DDR3 1500MHz HyperX and DDR2 800MHz ultra-low latency HyperX memory modules. Kingston 512MB and 1GB DDR3 1066MHz HyperX memory modules recently passed Intel platform (PMO) validation, paving the way for the company to help deliver next-generation high-performance computing.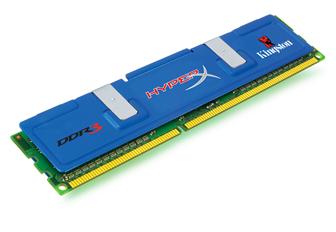 Kingston HX DDR3 memory
Photo: Company
Kingmax is featuring DDR3 1333 modules supporting Intel's latest dual- and quad-core CPU products to achieve fully synchronized high-speed efficiency. The company is also offering 2GB DDR2-1066/800/667 memory modules, 2GB DDR2-667 for notebook computers, and a 1GB DDR2-667 Micro DIMM.
Kingmax is also touting its lead-free manufacturing process. The company now uses lead-free IC chips in its high-quality, DDRII eco-friendly, lead-free memory modules, and has made adjustments to parameters in SMT production lines, such as temperature and welding materials. In addition, Kingmax lead-free memory modules have passed high-temperature reliability testing, are RoHS-compliant, and meet environmental protection requirements of the United States, Japan and China.
A-Data's latest DDR3 modules also reach 1333MHz. Its modules are available in densities from 512MB to 2GB. In addition, the company's Vitesta Extreme Edition series are specially designed to allow gaming and overclocking enthusiasts to build a high-performance platform. At the moment DDR2-1200+ is A-Data's fastest available module from the Extreme Edition series.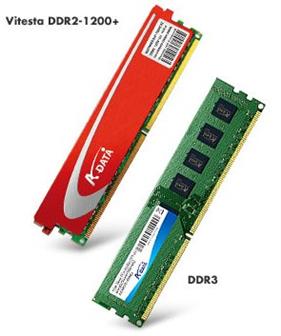 A-Data DDR3A-Data Vitesta DDR2-1200+
Photo: Company
Walton Chaintech to launch SO-DIMM products
Walton Chaintech, which demonstrated its APOGEE GT DDR2 1066 at CeBIT, is showing DDR3 memory modules up to 1333MHz at Computex. In addition to DDR3, the company is offering a full range of memory products including the APOGEE GT DDR2 overclocking edition series, desktop DRAM modules, and low power SO-DIMM series pitched for high-end notebook computers. Apacer offers DDR3 and DDR2 modules at 1066 MHz.
Walton will also be featuring its entire range of graphics cards, particularly the newest GeForce 8 Series, covering the GSE86GTS, GSE86GT, and GSE85GT models. For Internet Appliance products, Walton will demonstrate its PSA brand IP TV products.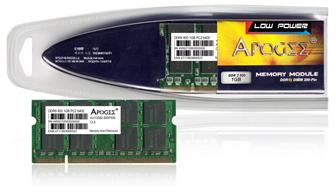 Walton Chaintech APOGEE SO-DIMM
Photo: Company
Qimonda to demonstrate advanced technology of GDDR5
Leading global DRAM manufacturer Qimonda is also showcasing its complete product lineup, including new DDR3 components and modules, GDDR3 RAM for game consoles, mobile RAM for various mobile or PDA applications, as well as AENEON module products including the new XTUNE overclocking series launched in early May.
Qimonda now offers 512Mb DDR3 SDRAM components that have been developed together with Nanya and DDR3 unbuffered-DIMMs with 512MB and 1GB densities. These current devices support operating speeds of 800MHz, 1066MHz and 1333MHz and can even be overclocked to 1600MHz and beyond.
GDDR5 is expected to become the next major graphics DRAM standard after GDDR3 and to exceed existing graphics standards. With its performance and additional features, GDDR5 will target future high-performance graphics applications including PC graphics cards or game consoles
Kingston USB flash drive features Sudoku game
Kingston is also featuring a full lineup of flash-based memory products at Computex 2007, including its DataTraveler Mini Fun USB drive that features the Sudoku game. The popular number puzzle game that now comes preloaded on the Kingston DT Mini Fun, available in densities of up to 4GB.
Kinston will also be showcasing its DataTraveler II in 4GB and 8GB capacities; DataTraveler II Plus-Migo edition, upgrades to Migo 3.0; DataTraveler 100, a USB 2.0 high-speed flash drive with capless design available in capacities up to 8GB; Mini SDHC card in Class 6 speed rating and 4GB capacity; DataTraveler card reader, Kingston's combination card reader (9-in-1)/USB flash drive with 4GB of onboard storage; microSD reader bundle, which simplifies data transfer between card and host computer.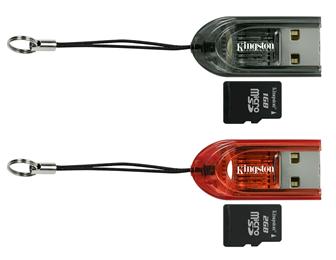 Kingston USB microSD reader-plus-card bundles
Photo: Company
Kingmax flash drives utilize advanced stacking and packaging technology
Kingmax's 4GB SD 2.0 compliant microSDHC memory card, which was displayed at 2007 International CES (January 8-11) in Las Vegas, will be shown at Computex 2007. The product is produced with Kingpak Technology's die stacking technology - which exercises precise control in grinding the thickness of each die. Kingmax also uses Kingpak's proprietary PIP packaging technology, the advanced packaging technology that uses substrate from Nanya Technology, and wire bonding using 20um gold wire.
Nanya's substrate, which measures only 0.11mm, is thinner than a standard substrate, which has a thickness of 0.2mm. The thickness of each die is only 25um, and is composed of stacks of eight layers.
The Kingmax microSDHC also utilizes Samsung Electronic's 63nm process technology. This technology allows Kingmax to supply twice as much capacity in its memory card products as its competitors.
The Kingmax microSDHC uses Silicon Motion's SMI 268 controller, a flash memory controller made from a 0.18um process technology. The controller supports dual channel read speeds of up to 150X (22.5 MB/sec) and read speeds of up to 127X (19.1MB/sec), and complies with flash products of different speed classes for minimum write speeds (Classes 2, 4, 6). Its low power consumption makes it suitable for device batteries for aviation and marine use.The SMI 268 allows for complete compatibility with all SDHC specification mobile phones and digital cameras.
Kingmax's 4GB microSDHC memory card is a solution for digital camera and MP3 player storage needs and also for SDHC specification products. Kingmax SDHC memory cards support HD and DVD video, as well as Super VCD, DVR and digital TV's MPEG-4 HD image formats.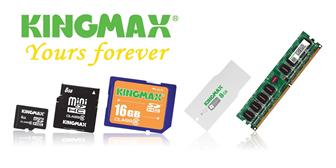 Kingmax Memory products
Photo: Company
Full lineup of flash devices for Apacer, including MP3 players
Apacer Technology is showcasing embedded flash solutions, including SATA flash, PATA flash, USB flash and flash card series: Handy Steno series USB flash drives; SDHC and Mobile Series flash cards; and Audio Steno series MP3 players.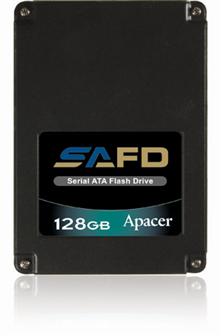 Apacer 128GB SAFD
Photo: Company
A-Data showcases flash memory drives supporting Microsoft Windows ReadyBoost
A-Data's ExpressCard flash drives with a capacity up to 32GB has a mini-USB port that enables connectivity to both notebook and desktop PCs and supports Windows ReadyBoost.

A-Data ExpressCard and PD17 memory products
Photo: Company
Pretec highlights S-Diamond miCard platform
Pretec is featuring its S-Diamond miCard, which adopts the latest memory card specification developed by Taiwan's Open Mobile Internet alliance (OMIA) with the help of the company and others.
The MultiMediaCard Association (MMCA) has just approved the specification for miCARD, a 12mm×21mm×1.95mm storage card designed for easy data interchange between MMC and USB devices. When used in portable devices such as cameras, smart phones and PDAs, miCARD takes advantage of the low power consumption and high performance characteristics of the MMC interface.
Pretec claims its S-Diamond - Pretec's second-generation i-Disk Diamond - is the world's first device to implement the local Taiwan specification. Pretec said miCard's area is 40% smaller than miniSD and its volume is about 18% smaller. The miCard can also function as a SD/MMC card with an inexpensive adapter.
Pretec is also demonstrating the i-Disk RFID flash drive in its i-Disk Diamond series. Pretec i-Disk RFID combines the USB flash drive and RFID technology in a tiny form factor in a sturdy and waterproof construction, which can be conveniently incorporated with any systems in need of both digital mass storage and easy identification.
Pretec i-Disk RFID can be automatically identified and its data remotely retrieved when the device passes within the proximity of an RFID "reader." Pretec i-Disk RFID can be widely applied to a variety of market segments, such as hospitals, airports, warehouses, POS systems for access control, asset or inventory management.
With a volume of 1.23 cubic-cm (45.7mm x 12.2mm x 2.2 mm), 25% smaller than a US quarter coin, i-Disk RFID is about one fourth of the size of a typical USB flash drive.
Hospital patient care can be achieved by using Pretec i-Disk RFID as a tag (or bracelet, or necklace) for both electronic portable medical health record, and easy-yet-secure personal identification. With capacity ranging from 128MB to 1GB, Pretec i-Disk RFID is sampling now to select customers and mass production is schedule to start by the end of this quarter.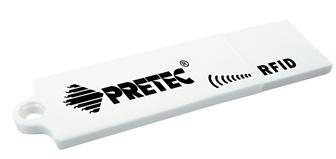 Pretec i-Disk RFID card
Photo: Company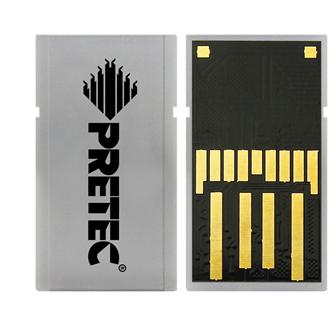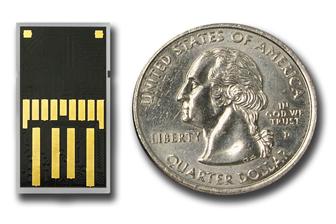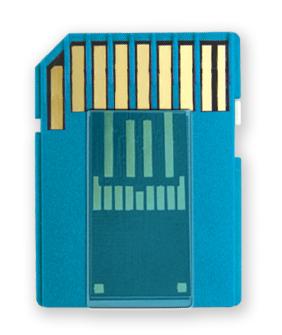 Pretec miCARD
Photo: Company
Team Group joins growing list of SSD makers
Taiwan-based Team Group, which manufactures and distributes memory modules, flash products, and consumer electronics, is offering a 2.5-inch 128GB SSD (solid state drive) for show at Computex 2007.
Memory module makers see SSDs as a storage application that may eventually replace hard disk drives (HDDs), and an increasing number of products are being offered. Kingmax and A-Data, among others, will also be featuring SSD at Computex. A-Data has launched a low-power and shock-resistant SSD in capacities from 32GB to 128GB that utilizes a SATA interface.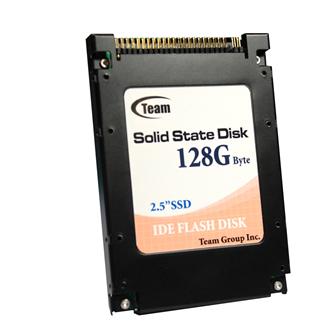 Team Group 2.5-inch 128GB solid state disk (SSD)
Photo: Company
Memory devices players at Computex

Company

Booth

Remark

Corporate information

Kingston Technology

Hall 1: B501, B502, B507, B508

To celebrate the international scope of Computex, the Kingston booth, Hall 1, booth B501, will be decorated in a 'World Traveler' theme.

Kingston Technology is the world's largest independent manufacturer of memory products. The company has manufacturing facilities in Taiwan, China, Malaysia and California, US, and sales offices in Taiwan, China, India, Australia, New Zealand, the US, the UK, Europe, Russia and Latin America.

A-Data Technology

Hall 1: D606, D616, D705, D716D

A-Data will exhibit its latest products at Computex, including its Extreme Edition series DRAM modules, DDR3 module and the newest flash drives. Its ExpressCard flash drive and SSDs (solid state disks) are also on display.

A-Data has been named the world's second largest vendor of memory modules and one of 2006 Taiwan Top 20 Global Brands. The company's main product lines include memory modules, flash memory drives/cards, and multimedia application products.

Apacer Technology

Hall 1: D126, D136, D225, D235

Apacer products at Computex will include: embedded flash (SATA flash, PATA flash, USB flash and flash card series) DRAM modules (DDR3 and DDR2 1066 MHz) flash drives (USB, SDHC cards and Mobile) and MP3 players.

Apacer began operations in 1997 as a maker of PC memory modules, and the company has also expanded into digital storage devices. Apacer ranks as one of the world's five largest memory module manufacturers.

Pretec

Hall 4: T202B

Pretec recently released its latest S-Diamond "miCard" that adopts a Taiwan memory card specification - the local Taiwan Open Mobile Internet alliance (OMIA). S-Diamond - Pretec's second-generation i-Disk Diamond - will be the first in the world to implement the local specification. Can be viewed in Hall 3: 454, 452, 503, 501

Pretec offers a spectrum of small form factor memory cards and card readers such as CF, SD MMC, and USB flash drive for digital imaging, mobile communications, and industrial flash markets. The company has more than 100 patents granted or filed.

Kingmax Digital

Hall 1: B409

Kingmax claims it is the world's first company to release a 4GB SD 2.0 compliant microSDHC memory card.

Kingmax is the world's first memory module manufacturer to have its own packaging and testing equipment. In addition to developing the unique, high-end patented TinyBGA technology for DDRII modules, the company possesses proprietary PIP technology for SD and MMC Series.

Walton Chaintech

Hall 1: Booth D530

In addition to memory products, company will be showcasing graphics cards and Internet Appliance products, including an IP TV STB

Walton Chaintech Corporation is a graphics card and memory module manufacturer. The company is headquartered in Taipei, Taiwan and has offices throughout China, Korea, Russia, Western Europe and the Americas.

Team Group

Hall 1: D402, D408, D501, D507

Will feature a 2.5-inch 128GB solid state disk at Computex

Taiwan-based Team Group was established in 1994 and sources its components directly major Korean and Taiwanese memory makers. The company covers most business regions in the world and has three main logistic distribution centers - in Taiwan, Hong Kong, and the US. Team Group also has business partners and sales agents in Southeast Asia, South America and Europe.

Qimonda

Hall 1: B726, 728, 825 and 827 in Area B

Qimonda now offers 512Mb DDR3 SDRAM components that have been developed together with Nanya and DDR3 unbuffered-DIMMs with 512MB and 1GB densities. These current devices support operating speeds of 800MHz, 1066MHz and 1333MHz and can even be overclocked to 1600MHz and beyond

Qimonda AG is a leading supplier of DRAM memory products. The company was carved out from Infineon Technologies AG on May 1, 2006 and generated net sales of €3.81 billion in its 2006 financial year. Qimonda has approximately 12,000 employees worldwide. Qimonda has access to five 300mm manufacturing sites on three continents and operates five major R&D facilities, including its lead R&D center in Dresden.
Source: Companies, compiled by Digitimes, June 2007.