The Computex show will host from June 2-6 and will focus on three major topics: IoT, mobile applications and cloud computing technology.
Sweden-based eye-tracking technology developer Tobii Tech has signed a MOU with Micro-Star International (MSI) to integrate the technology into MSI's gaming notebook products at Computex...

Smart mobile devices have become increasingly popular and with software applications and hardware platforms falling into place, the Internet of Things (IoT) is expected to emerge...

Good Way Technology, a global leading USB peripherals and docking solution provider, today announces the USB-C Triple Display Docking station at COMPUTEX Taipei 2015.

UNIFOSA CORP. announces partnership with Seagate to showcase complete line of 12Gb SAS storage solutions for applications including data center applications, video edition, Windows...

PowerbyProxi, developer of the world's most advanced and safest wireless power systems, will demonstrate the first Resonant Qi wireless charging system at Computex this week. New...

Smart Wearable and 3D Business Appliance have been the most special cross-boundary appliance in ICT field for the recent years. With the integration of ICT technology, the wearable...

Avexir would like to cordially invite you to our booth at Computex 2015, the largest IT trade fair in Asia You will get the opportunity to see Avexir's latest products and leading-edge...

GIGABYTE Technology, a leading creator of high performance server hardware, announced today the MT70-HD0 server board - the first cache-coherent, dual socket ARM board to be released...

Several China-based mobile device brand vendors and manufacturers have participated at Computex 2015 to exhibit their latest products. Seeing demand for smartphones and tablets from...

At Computex 2015, during a keynote addressed at the Taipei International Convention Center, Nick Parker, corporate vice president OEM Division, Microsoft, discussed how Windows 10...

Startup company Endless, an operating system developer, has participated at Computex 2015 showcasing its first product, the Endless PC, priced from US$169-229, targeting mainly developing...

As IT developers move toward 5G - analysts suggest the next-level network milestone will arrive as soon as in the next few years - the size, shape, and operation of our now ever-present...

Competition in the graphics card market has grown fierce as demand for graphics cards from the gaming market continues to grow. To stay competitive in the market, Gigabyte Technology...

Taiwan-based IC companies should utilize their expertise in SoC technology to focus on the development of low-power technologies, which would enable them to seize opportunities in...

Good Way Technology, a global leading USB peripherals and docking solution provider, today announces the DU21050 Windows tablet docking station at COMPUTEX Taipei, the Asia's largest...

Memory modules are practically standardized products to consumers among those produced by different key makers. However, AVEXIR Technologies has something unusual gaming products...

Union Genius is proud to present its own brand KEYDEX and the KEYDEX NFC Smart Ring. Unlike the conventional designs, KEYDEX NFC Rings adopted fine ceramic material that minimizes...

GIGABYTE has launched new P-series laptops with full array of features and class-leading performance. Thanks to the 5th generation Intel Core i7 processors in 14nm Broadwell architecture,...

Conexant Systems has introduced an ultra-low power, high-performance HD Audio CODEC - the CX8200 - at Computex 2015. Targeted to mobile PC applications including notebooks, ultrabooks...

According to experts, the multichannel audio-visual applications market has rarely failed to wow users, having introduced stunning innovations almost every year. In 2015, the most...

The Beidou, one of four global satellite navigation systems, is included in national strategy plans by China government. The navigation market size in China is over RMB40 billion...

Chenbro is showcasing four categories of products this year - high density storage solutions, hyperscale datacenter solutions, appliance server solutions, and enterprise edge server...

Digital signage solution developer, CAYIN Technology, today announced its participation in COMPUTEX TAIPEI 2015, the largest ICT exhibition in Asia, taking place in TWTC Nangang Exhibition...

This year, hardware/software integration is a major focus, with much attention to market perspectives on enterprises leveraging IoT functionality to maximize business opportunities...

Socionext Inc. today began sampling its new MN2WS03101A, a single-chip IC for 4K/p60, HEVC and VP9 playback with built-in HDMI-Tx/Rx. The new device is compatible with HEVC Main 10...
Related photos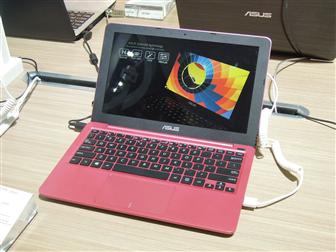 Asustek EeeBook E202 notebook
Photo: Joseph Tsai, Jun 12.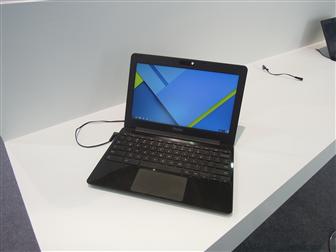 Haier Chromebook
Photo: Joseph Tsai, Jun 11.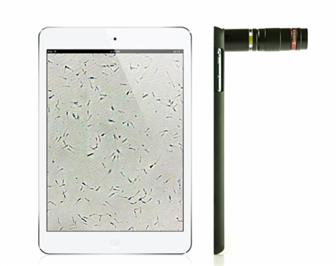 Aidmics iSperm inspection device for pig sperm
Photo: Julian Ho, Digitimes, Jun 10.