101 news items tagged STMicroelectronics
STMicroelectronics has shipped over 8.5 billion MEMS chips and expects applications for MEMS chips in the wearable device, fitness/health monitoring and Internet of Things (IoT) sectors...

Genesys Logic, Inc., a leading IC design company in mixed-signal, high-speed I/O technologies, today announced a reference design pairing its USB 3.0 card reader controller GL3221...

The global market for MEMS microphone chips is split into dual segments that are dominated by two suppliers: Knowles and Infineon Technologies AG, according to IHS.

The market for IoT (Internet of Things) devices is expected to stage a major uptick in the next 2-3 years. STMicroelectronics is ready to offer an assortment of key components such...

STMicroelectronics has introduced a series of new models of its STM32F4 family microcontrollers (MCUs), including STM32F429/439 and STM32F401, into the Taiwan market.

STMicroelectronics, Bosch and InvenSense are gearing up to meet the demand from new Windows 8 devices, as well as tablets and smartphones slated for release in the second half of...

Nuvoton Technology plans to introduce a new series of ARM Cortex M4-based MCUs in the second half of 2013, entering the industrial market segment led by STMicroelectronics and Freescale,...

The latest STM32F030 Value Line microcontrollers from STMicroelectronics aim to bring ARM Cortex-M0 32-bit MCUs to price-conscious projects, according to company marketing manager...

Intel, Samsung Electronics, Taiwan Semiconductor Manufacturing Company (TSMC), Texas Instruments (TI), Toshiba, Renesas Electronics, SK Hynix, and STMicroelectronics were among the...

Taiwan Semiconductor Manufacturing Company's (TSMC) MEMS foundry business enjoyed an approximately 80% rise in 2012, achieving around US$42 million in sales. The significant growth...

The District Court of Mannheim, Germany, has dismissed a complaint filed by Nokia accusing HTC of infringing patent EP 1581016, covering a communications network terminal for accessing...

A court in the Netherlands has judged that STMicroelectronics should discontinue supply of MEMS dual-membrane microphone devices to HTC for use in the New HTC One smartphone because...

Shipments of HTC's new flagship model, the new HTC One, might be jeopardized again after the District Court of Amsterdam issued recently a preliminary injunction, prohibiting STMicroelectronics...

China-based handset and tablet manufacturers in 2012 more than doubled their share of purchases of microelectromechanical systems (MEMS) motion sensors, reflecting the rising prominence...

Shipments of gyroscopes in China are expected to expand over 30% in 2013 as more local smartphone vendors are adding the MEMS devices into their mid-range to high-end models amid...

Smartphones and tablets continue to the prime movers of technology industries, with the two mobile platforms spurring a double-digit increase in the market for microelectromechanical...

Eyeing booming demand for combo motion sensors used in smartphones and tablets, MEMS vendors including Bosch, InvenSense, Kionix and STMicroelectronics all plan to promote their 6-...

The high importance of GaN-on-Si technology for power conversion applications is by now evident, says Boris Petrov, managing director of the Petrov Group. It is driven by cost and...

Samsung Electronics' foundry business has been selected by STMicroelectronics to provide it with products at the 32/28nm process nodes, according to the Korea-based chipmaker. The...

With shipments rising gradually for customer products, STMicroelectronics is gearing up to expand its presence in the global MEMS microphone market and is eyeing to become a leading...

United Microelectronics (UMC) has teamed up with STMicroelectronics to develop 65nm CMOS image sensor technology using backside illumination (BSI).

Chip vendors including Qualcomm, Broadcom, STMicroelectronics, NXP, Texas Instruments (TI) and OmniVision reportedly have started stocking their solutions used for Apple's next-generation...

Texas Instruments (TI) remained the world's No. 1 microelectromechanical systems (MEMS) manufacturer in 2011, retaining top honors after fending off runner-up Hewlett Packard (HP)...

Fueled by booming sales to Apple, STMicroelectronics in 2011 padded its leadership position in the global market for MEMS in consumer and mobile devices, according to IHS iSuppli.

Driven by their widespread use in top-selling mobile devices like Apple's iPads, market revenues for digital microelectromechanical systems (MEMS) microphones is set to overtake the...
Related photos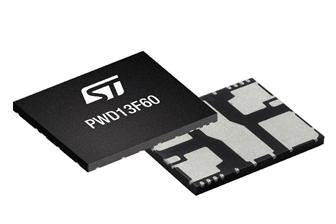 ST PWD13F60
Photo: Company, Tuesday 5 December 2017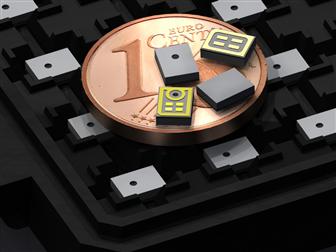 STMicroelectronics MEMS microphone
Photo: Company, Wednesday 9 December 2009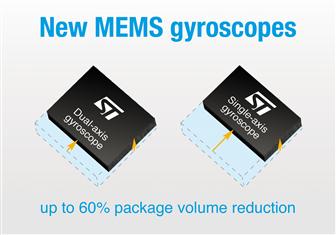 STMicroelectronics single-axis and two-axis MEMS gyroscopes
Photo: Company, Wednesday 11 November 2009
Related news around the web