76 news items tagged iPad mini
Apple has recently released its new iPad Air and iPad mini, but sources from the upstream supply chain have pointed out that the new tablets' shipments are unlikely to pick up until...

Apple has introduced the new iPad Air in an ultrathin 10.5-inch design, featuring Apple Pencil support. With the A12 Bionic chip with Neural Engine, the new iPad Air delivers a 70%...

Apple is scheduled to roll out its entry-level MacBook series featuring Intel's 14nm Kaby Lake processor in September's product launch conference. The model is expected to be priced...

Global tablet shipments arrived at 37.08 million units in second-quarter 2018, up 13.6% on quarter and 11% on year.

The upstream supply chain's shipments for Apple's new 10.5-inch iPad Pro have been increasing recently and the device's monthly shipment volume is expected to grow to 600,000 units...

Global tablet shipments are expected to plunge by 30% sequentially to 52.15 million units in the first quarter of 2015, according to Digitimes Research.

Digitimes Research believes Apple is planning to sacrifice its gross margins to save its tablet business, which has already fallen into decline. Apple's entry into price competition...

Tablet panel pricing has remained flat so far in October 2014, with 7-inch IPS/FFF panels at US$25 and 10.1-inch IPS/FFF panels ranging from US$34-38, according to statistics from...

Apple has introduced the iPad Air 2 and iPad mini 3. The iPad Air 2, which is 6.1mm thin, and the iPad mini 3 both offer Touch ID.

Apple has recently cooperated with US-based retailers including Best Buy and Amazon to cut its iPad mini prices. Channel retailers believe other brand vendors may follow suit to maintain...

The global market share for iPad products is likely to drop from 26.9% (IDC figures) for the second quarter of 2014 to below 25% in the second half of the year due to increasing competition,...

Apple has reportedly invited China-based battery makers to join its iPad supply chain, and the makers will start supplying orders in the second half of 2014, according to sources...

Foxconn Electronics (Hon Hai Precision Industry) shipped 50 million tablets to become the largest Taiwan-based ODM in 2013 and is expected to ship 55-60 million units to maintain...

With aggressive promotions by retailers, iPad sales during the year-end shopping season have grown strongly. Promotions - such as Best Buy's US$100 price cut for iPad 2, Walmart's...

Taiwan-based telecom carriers Chunghwa Telecom (CHT) and Far EasTone Telecommunications (FET) have announced contract-bundled sale of iPad Air and iPad mini with Retina display will...

Apple's iPad Air and iPad mini with Retina display are reportedly likely to be launched in the Taiwan market on December 20, according to local retail channels.

Apple's iPad mini units and Microsoft's Surface were among the most sought after tablets during the Black Friday weekend sales, which will help improve fourth-quarter performance...

Taiwan-based tablet supply chain makers, viewing that Apple and Samsung Electronics have increased their tablet shipments, have upward adjusted estimated iPad shipments in the fourth...

As bottlenecks in making components for the iPad mini with Retina have gradually been removed, Apple has increase orders in November to nearly four million units, according to Taiwan-based...

The availability of the iPad mini with Retina display may not be enough to meet market demand because Sharp's supply of 7.9-inch Retina display panels based on its Oxide TFT process...

Apple's upcoming iPad Air and iPad mini with Retina display have already triggered price cuts by channel retailers for previous-generation iPads. US-based Best Buy is currently offering...

Supplies of Apple's second generation iPad mini are expected to fall well short of demand in the fourth quarter of 2013 due to limited production of the tablet's new Retina display,...

Taiwan channel retailers expect Apple's iPad Air and iPad mini with Retina display to be available in the local market as early as late November.

Apple's price cut for its first-generation iPad mini is expected to prompt its competitors to slash their tablet prices, according to sources from tablet vendors.

Apple has announced the iPad Air featuring a 9.7-inch Retina display. Weighed one pound, iPad Air is 20% thinner and 28% lighter than the fourth-generation iPad, and with a narrower...
Related photos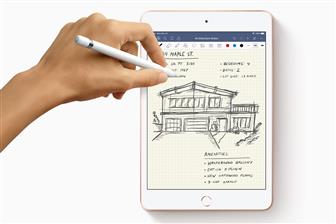 Apple iPad mini with Pencil support
Photo: Company, Tuesday 30 April 2019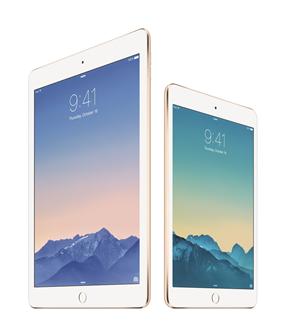 Apple iPad Air 2, iPad mini 3
Photo: Company, Friday 17 October 2014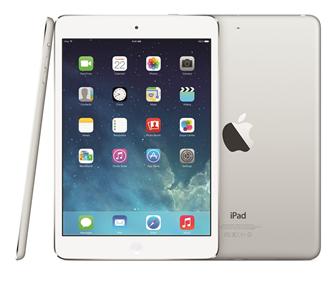 Apple iPad mini with Retina display
Photo: Company, Wednesday 23 October 2013
Related news around the web