84 news items tagged Spansion
Yangtze River Storage Technology (YMTC) under the Tsinghua Unigroup has successfully developed 32-layer 3D NAND flash chips, marking a new milestone and major technological breakthrough...

Cypress Semiconductor announced on May 13 that the company has made an offer to buy Integrated Silicon Solution (ISSI) for US$19.75 per share in cash.

Spansion and Macronix International announced on January 27 that they have settled all outstanding patent disputes and actions, including their respective complaints at the US International...

Cypress Semiconductor and Spansion have signed a definitive agreement to merge in an all-stock, tax-free transaction valued at approximately US$4 billion. The post-merger company...

With the global automobile electronics market set for strong growth in 2015, a number of semiconductor firms including Micron Technology, Spansion, Micronix International, Winbond...

China-based 12-inch wafer foundry house XMC reportedly has teamed up with Spansion to jointly develop and produce 3D NAND flash chips, with trial production to begin in 2016 and volume...

Spansion has announced the signing of a cross-license agreement with Winbond Electronics, allowing both companies access to each other's flash memory patent portfolio.

Japan-based Allied Telesis has agreed to a consent order to cease all US imports of products containing Spansion devices alleged of patent infringement, according to a statement from...

Macronix International and Macronix America have have filed a patent infringement law suit against Spansion, Inc, Spansion LLC, Spansion (Thailand) and certain of their customers...

Having acquired Fujitsu's MCU unit, Spansion is set to expand its presence in Japan with a focus on industrial and other application-specific applications.

Macronix International announced on November 14 that the company has filed petitions with the US Patent and Trademark Office (USPTO) for an inter partes review, challenging the validity...

Macronix International announced on October 3 that it has filed a patent infringement lawsuit against Spansion LLC and Spansion in the US for infringement of seven Macronix patents...

Spansion Inc. (NYSE: CODE), a global leader in Flash memory-based embedded systems solutions, today announced that the Spansion FL-S family of Serial Peripheral Interface (SPI) Flash...

Macronix International has responded to Spansion's patent suit filing with the US ITC as saying the company will fully defend itself against allegations of patent infringement.

Spansion has filed complaints against Taiwan-based Macronix International alleging past and ongoing widespread violations of Spansion's patents in a broad and growing range of Macronix...

Spansion and China-based 300mm semiconductor foundry XMC have announced an agreement for XMC to license Spansion's floating gate NOR flash technology. The agreement expands the companies'...

The advantages of NOR flash for embedded applications are well known. It is fast, and it allows software to run and modify its contents highly reliably because it functions in a random...

Spansion on April 30 announced that the company had reached a deal with Fujitsu Semiconductor, a wholly-owned subsidiary of Fujitsu, to acquire the microcontroller and analog business...

NOR flash memory supplier Spansion has announced that its existing partnership with China-based 12-inch IC foundry XMC now extends to 32nm.

Spansion recently announced a joint development with United Microelectronics (UMC) to integrate its proprietary embedded charge trap (eCT) flash memory technology with the foundry's...

Spansion has announced production of a new low-density serial flash memory family to expand its product portfolio and address additional applications in the consumer segment and in...

Packaging and testing firm ChipMOS Technologies (Bermuda) has announced that subsidiary ChipMOS Taiwan and Spansion have extended their ongoing agreement through April 2014.

Spansion has started sampling the company's first single-level cell (SLC) NAND flash memory, built using SK Hynix' 4Xnm process technology, and packaged and tested by Spansion itself...

Spansion has announced that the firm is expanding its design and product development in China to focus on cost-competitive serial NOR flash memory solutions for specific applications...

Spansion has announced an alliance with SK Hynix to introduce SLC NAND products at the 4x, 3x, and 2x nodes. As part of the relationship, the pair will enter into a patent cross-licensing...
Related photos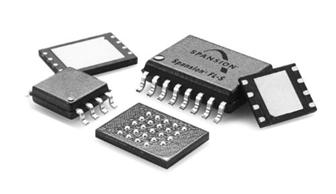 Spansion FL-S NOR flash
Photo: Company, Friday 30 September 2011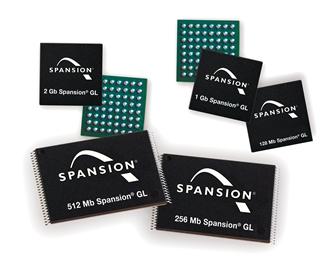 Spansion GL-S family of NOR flash
Photo: Company, Wednesday 23 February 2011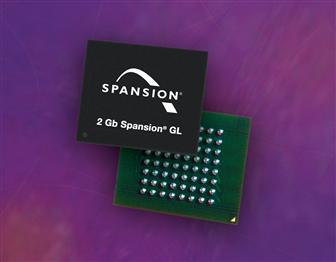 Spansion 2Gb GL-S
Photo: Company, Wednesday 17 November 2010
Related news around the web