61 news items tagged Hitachi
Taiwan-based Spirox, which distributes packaging and testing equipment, has signed a new contract with Japan's ShibaSoku under which Spirox will sell ShibaSoku's semiconductor test...

IoT (Internet of Things) startup Ayla Networks has posted exponential revenue growths since 2015 and expects fast expansion in the next two years after acquiring US$130 million in...

The world's leading semiconductor suppliers have significantly increased their combined market share over the past decade. According to IC Insights, the top-5 semiconductor suppliers...

Hitachi Data Systems' (HDS) Virtual Storage Platform (VSP) F series solutions have gained increased recognition from enterprise users, helping HDS stay as a leading player in the...

Taiwan Semiconductor Manufacturing Company (TSMC) is expanding the number of suppliers of equipment for its 7nm process in a bid to maintain an ecosystem pricing balance, according...

Taiwan Semiconductor Manufacturing Company (TSMC) has spent more than US$700 million on semiconductor capital equipment in recent weeks, according to filings issued by the pure-play...

Japan display has begun to make profits and aims to surpass other countries in LCD technologies, according to Shuichi Otsuka, president of the firm.

The LED ceiling and tube light market showed significant growth in Japan in November 2012. Due to limited electricity, Japan has been raising awareness on saving energy. In 2012,...

The global hard disk drive (HDD) industry surged to record revenues in the first quarter, thanks to higher average selling prices that compensated for the wreckage and loss in shipments...

Hitachi Ltd announced that it enhanced the flexibility in order to meet global requirements from an implementation to an operation phase of SAP ERP and prepared "Hitachi Global...

The global hard disk drive (HDD) industry may take one year to completely recover from the impact of flooding in Thailand and and therefore the market will not be able to resume normal...

With LCD panel demand for large-size applications such as TVs remaining dull, Mitsui Kinzoku and Sumitomo Electronics Taiwan (SET) are looking to withdraw from the standard chip-on-film...

Japan-based Hitachi Chemical has unveiled plans to establish a CMP slurry production plant in Tainan, southern Taiwan, with an investment of JPY2 billion (US$25.7 million). The facility...

Four Japan-based companies - Innovation Network Corporation of Japan (INCJ), Hitachi, Sony and Toshiba - has announced that they have signed definitive agreements to integrate their...

Some PC ODMs may be forced to stop production beginning November due to hard disk drive (HDD) shortages, according to industry sources. Global HDD supply in the fourth quarter is...

The serious flooding in Thailand has forced hard disk drive (HDD) assembly and HDD component factories in the area to stop production and consequently a global shortage of HDDs is...

HDD players Western Digital, Seagate, Hitachi Global Storage Technologies (HGST) and Toshiba have all been impacted by the floods in Thailand amid power shortages and a breakdown...

Japan's attempts to integrate resources of the country's small- to medium-size panels would benefit the development of the global panel industry, but there are challenges ahead for...

Players in the external hard drive industry originally expected to see more than 100% growth on year in 2011, but may not be able to achieve growth as strong as expected due to serious...

While demand for projectors in the China market is on the rise due to government procurement projects for educational applications, Taiwan-based vendors including BenQ, Vivitek, Optoma...

Taiwan-based hard drive component maker Min Aik Technology, calculated from its orders, has estimated that global hard drive shipments will grow 15-20% sequentially in the third quarter...

Delta Electronics on June 2 inaugurated three zero-carbon classrooms, an energy-saving educational facility, inside three elementary schools located in northern, central and southern...

Hitachi's presence at Computex 2011 can be more strongly felt than its previous participation in the world's second largest IT tradeshow. For the Japanese industrial giant, Computex...

Taiwan-based Wistron ITS, a software design subsidiary of Wistron, has recently cooperated with Japan-based Hitachi and plans to import the landmark information software GeoPDF, which...

Japan's earthquake in March has significantly impacted the supply status of the hard drive industry and the effect is expected to persist in May with two of the top-5 makers - Western...
Related photos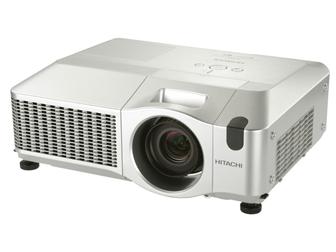 Hitachi 3LCD projector - the CP-SX635
Photo: Company, Monday 2 February 2009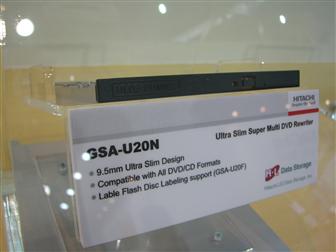 Hitachi GSA-U20N ultra slim DVD rewriter
Photo: Eric Mah, Wednesday 11 June 2008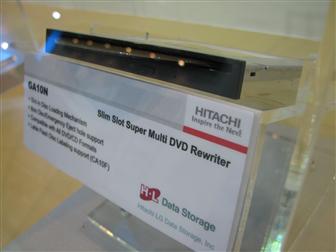 Hitachi GA10N slim slot Super Multi DVD rewriter
Photo: Eric Mah, Wednesday 11 June 2008
Related news around the web