Environmental and occupational health instrument developer Scarlet Tech has scored points in promoting its smart heat stress detectors designed to protect workers from heat exhaustion working at mines, construction sites and other outdoor environments, according to company founder David Huang.
The devices add the value of IoT (Internet of Things) to conventional instruments for niche-market applications, he said.
The detectors are equipped with sensors to collect data on thermal radiation, temperature, humidity and wind speed, four environmental physical parameters, and intergate them with physiological parameters such as age and weight for algorithm-based analysis, Huang said.
If the analysis indicates the environmental physical parameters exceed safety standards, the detectors will send on heat stress warnings. The safety standards can be customized based on clients' needs and local regulations on labor safety, Huang noted.
Scarlet Tech adopts RF technology instead of LoRa, NB-IoT or LPWAN, wireless data communication technologies commonly used in IoT, for transferring data collected by the sensors to the cloud, Huang indicated, as RF meets the needs for long-distance, real-time and continued data transmission under ruggedized environment. The data uploaded to the cloud enable remote monitoring of operating conditions at working sites, Huang added.
Scarlet Tech has also launched noise dosimeters to measure long-term noise exposure as well as wireless anemometers for use in cranes to detect whether wind speeds are within allowable levels.
Scarlet Tech's development of smart heat stress detectors originated from Huang's participation in setting up a nationwide accident monitoring system in Abu Dhabi under a World Health Organization program. Huang saw many cases of heat exhaustion there.
Emirates, Royal Dutch Shell, Australia-based BHP, South Korea-based Samsung Group and Hyundai Group are among Scarlet Tech's clients. While the Middle East accounts for 70% of Scarlet Tech's clients, the company has tapped markets in the US, Europe, Southeast Asia and Australia and plans to set up marketing bases in Dubai and the UK.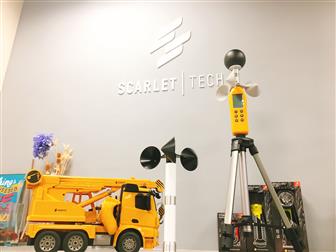 A smart heat stress detector (right) and a wireless anemometer
Photo: Chloe Liao, Digitimes, November 2018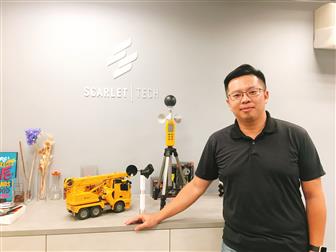 Scarlet Tech founder David Huang
Photo: Chloe Liao, Digitimes, November 2018