India Electronics & Semiconductor Association (IESA) held its annual event IESA Vision Summit at the Leela Palace in India's high-tech center Bengaluru at the end of February. Taking place at the Leela Palace - one of India's best hotels featuring Indo-Islamic architectural grandeur, the event gave participants a striking impression of Indian businesses' real determination to take action in response mainly to the rise of China's semiconductor industry.
India's trade deficit with China widened to US$46.7 in the fiscal year 2017, half of which was due to electronics imports from China to India. Hoardings and billboards featuring Oppo and Vivo phones are everywhere in India. Xiaomi also dominates online channels. Price-conscious Indian consumers are scrambling for electronics made in China.
To turn the table around, India has planned to raise the import duty on electronics starting in April 2018 and institute several large-scale development projects for critical components. According to industry sources, the Indian government has engaged in a 10-year collaboration program with Korea's LG Display (LGD) with respect to developments of display panels, wherein LGD will oversee production yield and the participating Indian company will be in charge of sales operations. The 10-year long commitment includes a transfer of LGD's technology to the participating Indian company. The next target will be semiconductor technology.
With a positive outlook on the future of India's industries, SEMI president Ajit Monocha, Synopsys president Chi-Foon Chan, former Tokyo Electron chairman Tetsuro Higashi and Applied Materials CTO Omkaram Nalamasu all attended IESA Vision Summit 2018 and gave talks on the role India can play amid upcoming changes in the industries. However, during the two-day event taking place in India's high-tech capital, the hottest topic was in fact the rise of China, which has put India on guard and also spurred a new wave of developments as India does not want to be left out of the high-tech boom.
Attractive market opportunities in India
India's GDP is expected to reach US$5 trillion by 2025, making the country the world's fifth largest economy. The average age of the Indian population will be 29 years in 2020. The young country with a large number of digital natives surpassing most other countries holds tremendous opportunities that world-leading enterprises are all closely watching.
Market research statistics show that the Indian electronics sector will reach US$130 billion in 2018. The smartphone segment with a CAGR of 25% has become a growth driver propelling the Indian electronics industry forward. According to the Indian newspaper Hindu News, Airtel joined forces with Google to introduce the world's first low-cost 4G phone based on Android Oreo, which works best on budget phones with less than 1GB RAM. The phone will be pre-installed with a few apps capable of running efficiently under the condition of low data transfer volume.
The 4G smartphone named Mera Pehla is designed for entry-level and potential users. Furthermore, India's own Lava and Micromax also have plans to launch new Android Oreo-based phones with similar design concepts. The pre-installed apps will include Airtel TV and Wynk Music. These phones come with price tags that Indians call "budget-friendly." Such exciting offers set off a market boom, which could usher in a golden era for the Indian electronics industry within the next few years.
Is India's golden age finally here?
IESA Vision Summit 2018 gathered prominent industry leaders, including not only Synopsys president Chi-Foon Chan and former Tokyo Electron chairman Tetsuro Higashi but also Indian semiconductor experts holding influential positions in international companies. This shows Indian professionals have widespread involvement in the semiconductor business.
According to Chan, the Indian semiconductor industry took its first step when Texas Instrument (TI) established its Indian subsidiary in 1985. Its engineering workforce has grown from 500 in the beginning to 15,000 today. Among semiconductor companies with offices in India, Intel set up operation in 1988, Synopsys in 1995, Qualcomm in 1996 and Xilinx, ARM, AMD, STM, NXP as well as MediaTek in recent years. India now has a total of 180 semiconductor companies. Synopsys India has a staff of 2,500 people, only second to the Synopsys US headquarters. Chan spoke highly of his company's operation in India.
At least 2,000 chips are being designed by engineers working in R&D centers in India every year. Worldwide semiconductor revenues exceeded the US$400 billion milestone for the first time in the industry's history in 2017. The growth of more than 20% annually is also unprecedented in recent years. Chan thinks this has been mainly down to burgeoning applications, including PCs and handsets in the past as well as IoV at present. There is also a worldwide frenzy over innovative combinations of IoT and AI, which holds soaring market opportunities.
With semiconductor being fundamental to all industries, governments around the world are more aggressively intervening in market developments than before. Merger and acquisition deals between chip makers totaled US$100 billion in 2015 and further rose to US$114 billion in 2016. But the amount suddenly dropped to US$49 billion in 2017. In the meantime, China, Korea and Taiwan are also ramping up investments in the semiconductor market. How can India remain uninterested?
Among Synopsys' revenue generated in India, 90% is from international companies and only 10% from local IC design houses. According to IESA statistics, although India has 15,000 IC design engineers, most of them work for multinational firms. The local Indian IC design industry produces an annual value less than US$50 million. India is still in search of an elementary approach to fostering its own chip design business.
India wary of the rise of China
SEMI president Monocha commented that the Indian semiconductor industry has been taking two steps forward and three steps back but enjoyed a soaring 22% growth in 2017. Could this mean the Indian semiconductor industry has crossed a new milestone?
"How can there be software without hardware?" said Monocha, who left his native country 44 years ago but stays true to his Indian roots. When he sees the Indian market is flooded with electronic goods from China, he calls on the Indian government to strengthen its commitment and engagement because without government support, India stands little chance in the semiconductor competition.
Twinstar is the collaborating Indian company in the LGD project. According to a Twinstar executive who took part in the partnership talks, although the deal came into existence mainly because LGD would provide assistance on materials and equipment, the agreement to work together in technological developments was in fact the reason why India decided to fully invest into the display panel business.
It is said that LGD has committed to a complete technology transfer within 10 years and will provide training for Indian engineers at its Paju plant. LGD is well aware that it will be at a disadvantage against China-based rivals such as BOE if it is unable to tap into the Indian market. According to the Twinstar executive, who asked to remain anonymous, the training program will take three years and the two parties have agreed that Twinstar will be in charge of product sales while LGD will ensure production yield so that Twinstar will have plenty of room to maneuver against China-based manufacturers.
We can learn from the South China Sea disputes that when China makes a strong presence in the semiconductor and display sectors, third-world countries will be on their guard and attempt to form a strategic alliance against China. Such tension will give India a spot on the world stage. But India will be able to get help from Taiwan, Japan and Korea only if it can leverage its demographic advantages, provide infrastructure for industry developments and work with veteran industrialized countries in Asia.
When China announced the plan to fuel US$250 billion into its semiconductor industry, what were Americans thinking? Where did India stand? Monocha pointed out that SEMICON China 2017 attracted 70,000 visitors, a lot more than the 45,000 attendees at the second-largest event SEMICON Korea. The US PCAST is closely watching China's growing influence and has issued a report to recommend countermeasures. For India to quickly catch up with China, it is important that the Indian government has a strong ambition. The central and local governments have to work together efficiently in order to bring fundamental changes. Furthermore, India needs partners. "Stop talking" - that is what Monocha suggests his home country should do. He wrapped up his speech by stressing that the future is in the hands of the Indian people. However, although China's expansion has fired up India, China, having made a major head start, will not be the lazy hare racing the tortoise. India should make all efforts to avoid losing the race.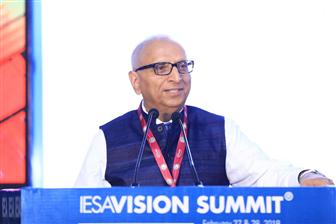 SEMI president Ajit Monocha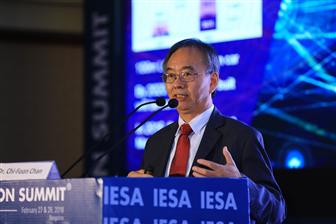 Synopsys president Chi-Foon Chan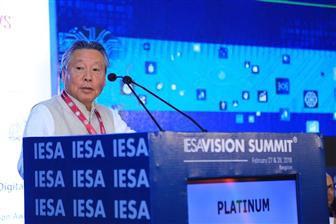 Former Tokyo Electron chairman Tetsuro Higashi
Photos: IESA