SiS announced that the first SiSM671-based notebook PC, the Clevo M721S/M720S, has been introduced to the market. The new notebook was co-developed by SiS and Clevo, and is designed to be compatible with the Windows Vista operating system (OS), according to SiS.
The Clevo M721S/M720S features a 12.1-inch LCD monitor and supports high-speed UMTS/HSDPA network connections. The notebook is also equipped with fingerprint detection technology to ensure the security of information.
The Clevo M721S/M720S supports Intel Core 2 Duo, Pentium 4 and Pentium D processors. It also supports DDR2 667/533 memory up to 4GB and has an embedded SiS Mirage 3 graphics engine, which supports DirectX 9.0 and is capable of providing smooth animation in 2D and 3D with Vertex Shader 2.0 and Pixel Shader 2.0 technology.
Clevo M721S and M720S notebook specifications

Item

M721S

M720S

CPUs supported

Core 2 Duo, Pentium 4, Pentium D processor

Memory

DDR2 667/533 up to 4GB

Graphics

Mirage 3 graphics engine

Northbridge

SiSM671

Southbridge

SiS968

Color

White

Silver
Sources: Companies, compiled by DigiTimes, April 2007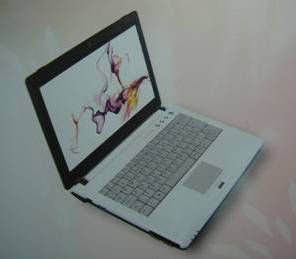 Clevo M721S and M720S notebooks
Photo: Company

SiS M671 chipset
Photo: Company