Changes in consumption habits are urging retailers to accelerate the pace of smartization. Under this trend, the weight carried by POS systems and kiosks, which play important roles in the operation of physical stores, will gradually increase. As a major IT system provider for retail and catering industries, DataVan International Corporation recently acquired industrial computer manufacturer Maincon Corporation in order to strengthen product layouts and service capabilities.
DataVan International Corporation's Executive Director Mao-cheng Hsu of the Technology Department and Vice General Manager Yi-ching Chen of the General Administration Department both expressed that the two companies will perfectly complement each other in the areas of technology and product marketing, leading to more comprehensive solutions for clients.
DataVan International Corporation has many years of experience in the fields of IT systems for catering and retail industries, including POS systems and kiosks. The company's overall business performance has maintained steady growth despite the fact that many clients have been merged into other companies during the wave of mergers and acquisitions that started in the past few years. Yi-ching Chen stated that the company's main target markets are mostly occidental countries, and the x86 architecture is the focal point of its technology. Recently, the company has decided to expand into the Asian market and increase the proportion of its Android products, therefore, the decision to acquire Maincon Corporation was made. DataVan International Corporation has acquired 60% of Maincon Corporation's equity for now. Mao-cheng Hsu also stated that Maincon Corporation not only has all-round marketing networks in several Asian markets including Japan and Southeast Asia, but also has established great collaborative relationships with local major manufacturers. In terms of technology, Maincon Corporation has a strong foundation in the Android field. In recent years, Maincon Corporation has seen positive results of its substantial investment in AI; it already has practical solutions that can be implemented. These strengths will complement DataVan International Corporation.
After the acquisition of Maincon Corporation, DataVan International Corporation will use Maincon Corporation's marketing networks in Asia to allow its products, including POS and kiosk systems, to smoothly enter the local markets. In addition, Maincon Corporation's Android and AI technologies will be utilized to create smart retail solutions, which will also be promoted in the existing European markets. Mao-cheng Hsu mentioned that Maincon Corporation has many successful cases of smart solutions under its belt. It previously worked with NESIC, a subsidiary of Japanese IT company NEC, in launching a smart epidemic prevention system. In addition to its success in the retail industry, Maincon Corporation also has substantial achievements in other fields, including industrial control and transportation. In the industrial control domain, the company has worked with AsusTek Computer in building an industrial safety surveillance platform; in the transportation domain, the company has assisted Malaysia in building a smart transportation system.
Regarding future plans, Yi-ching Chen believes that smartization is an irreversible trend in the market, so DataVan International Corporation will integrate AI technologies and launch smart POS terminals as well as other retail equipment. In fact, in 2018 the company had already developed a smart solution that builds AI machine vision into POS machines. It allows quick product identification and speeds up checkouts. However, the global market was affected by the pandemic in 2020, forcing product plans to be suspended. Depending on market recovery, the plans will resume in the future. Moreover, DataVan International Corporation will also launch POS machine models with remote monitoring. The function enables mangers to control POS devices located at different places and get hold of the devices' operating statuses via an online platform.
In addition to smart POS systems, DataVan International Corporation also plans to extend its technology into other areas of the retail industry, including warehousing and logistics. Mao-cheng Hsu mentioned that, as the retail industry steps into the O2O era, online and offline transactions have begun to be tightly integrated. This trend has made it difficult for a POS system to satisfy the demands of a physical store. Upstream and downstream systems, including logistics and warehousing, must integrate to allow the seamless flow of information. This aids the creation of more diverse services. For example, smart shelves can enable the warehousing system to automatically generate the data of purchases, inventories and sales, which can be utilized by the store and logistics service providers.
In another project of DataVan International Corporation, the company worked with an American client in creating an inventory-tracking smart robot system. Robotics and kiosks are the two main technologies integrated in this system. During the opening hours of a store, various product information and services are provided through kiosks; at night, robots automatically go around the store and track the types and numbers of products on the shelves. At present, DataVan International Corporation has shipped the kiosks to the United States, and the integrated inventory-tracking smart robot system is still in progress. In the future, aided by Maincon Corporation's AI technology, DataVan International Corporation will optimize the functions of the robots and market the product to the European market. Mao-cheng Hsu and Yi-ching Chen both stated that this project is the best example of how DataVan International Corporation and Maincon Corporation complement each other with their strengths. Projects similar to this one will emerge quickly as the pace of smartization accelerates in the retail market. DataVan International Corporation will use this investment plan to expand the company's operational arrangements and satisfy market demands with integrated solutions.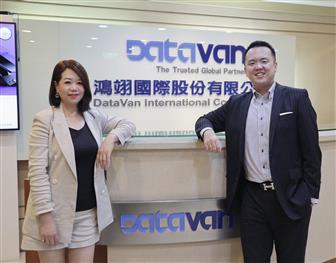 DataVan International executive director of Technology, Mao-cheng Hsu (right) and vice GM of General Administration, Yi-ching Chen (left) both express that the strengths of their company and Maincon will complement each other; DataVan will let this investment plan be the core of the company's operational arrangement expansion
Photo: Digitimes, April 2021
DIGITIMES' editorial team was not involved in the creation or production of this content. Companies looking to contribute commercial news or press releases are welcome to contact us.