With the convergence of 5G, AI, IoT and hyperscale computing, what will computing needs look like in the next decade? As the heart of the computing and connectivity revolution, and the developer of widely used processor architecture, Arm has outlined its vision over the next decade through the recent launch of the Armv9 architecture.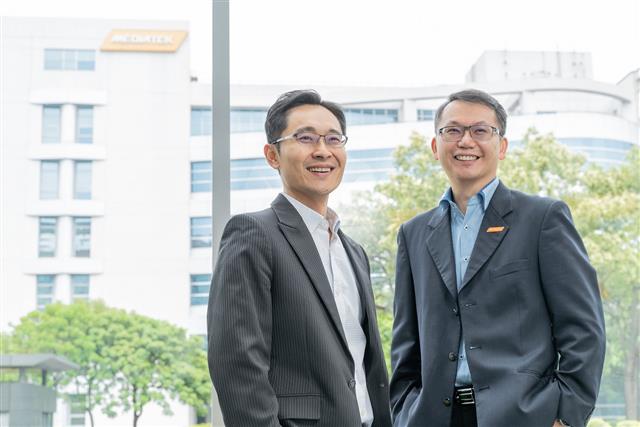 CK Tseng (left), President of Arm Taiwan, and Dr. JC Hsu, Corporate VP and GM of MediaTek's Wireless Communications Business Unit (right)
As AI-powered compute becomes ubiquitous, CK Tseng, President of Arm Taiwan, expected that another 300 billion Arm-based chips to ship during the next decade and could be widely used in end devices, data networks, edge computing or in the cloud. After a holistic consideration of the balance between general purpose and specialized processing as well as factors such as safety, performance, ease of development and power efficiency, Armv9 is the solution developed to address this unprecedented opportunity for innovation. How to leverage Arm architecture and its strong ecosystem to make innovations is what the whole industry can think about to identify and size up the business opportunities.
Computing needs and challenges for the next decade
It has been 10 years since Arm launched Armv8 architecture. More than 180 billion Arm-based chips have been shipped over the past 30 years, Tseng said. From sensors, edge, networks to the cloud, the vast majority of shared data today are processed by Arm processors at some stage through its lifecycle. Therefore, when we started developing the Armv9 a few years ago, we have been thinking about what's the biggest challenge over the next decade? How can we help developers prepare for the future?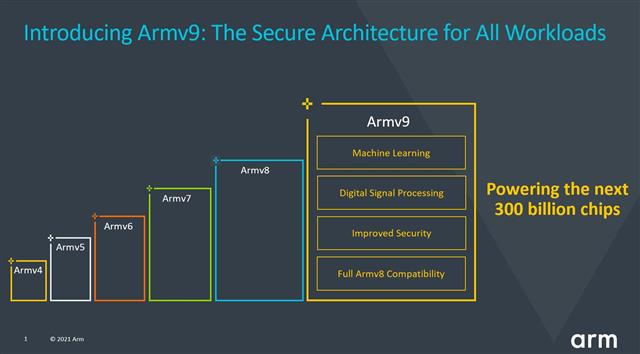 Shipments of Arm-based chips are expected to reach 300 billion in the next decade for diverse innovative solutions
First, information security is the biggest challenge. "Data has become an important asset for individuals, whether in consumer, industrial or commercial applications, ensuring privacy and security is an urgent issue." In addition, with the growing innovative applications and the cost to launch an app is getting lower, there will be more and more people engaged in software development. In the future, the number of software will increase greatly, how to prevent important information from being stolen and make the development of applications easier and seamless is a matter to be considered.
In the meantime, the popularity of AI and hyperscale computing applications will continue to drive the development of edge AI, and the market has endless demand for lower power consumption and higher performance. Arm is developing technologies to increase efficiency, bandwidth, cache size and reduce memory latency to maximize the performance of Armv9-based CPU to collaborate with partners to react to challenges.
Another challenge posed by the ubiquity of AI in computing is that the requirements for specialized processing solutions will become higher. Different market segmentation, performance and use cases will bring different computing requirements. How to flexibly utilize the hardware and software capabilities of CPU, GPU and NPU processors to optimize the AI workload in the optimal solution is also a problem to be solved.
The future of specialized computing delivers enhanced security, AI and system performance
Therefore, in addition to enhancing security and core performance, Arm is also trying to create solutions that meets the needs of specialized computing under the general-purpose and flexible hardware architecture to achieve the optimal "system-level" performance.
Tseng said that in anticipation of this trend, Arm has changed to define the organizational structure from an application point of view rather to define from product lines to cater for the specific needs of computing technologies for different applications.
David Hsu, Arm FAE Director, added that specified processing is needed to respond to the diverse needs for future chips. That's why Arm integrates Arm CPU, GPU and NPU platforms to deliver greater efficiency, scalability and flexibility. In addition to hardware, Arm has also put a lot of efforts in building a software ecosystem. "The future is an era of contextual optimization, moving beyond individual IP specification, where software will play a much bigger role."
To this end, Arm introduces SystemReday program. As long as hardware and underlying software comply with defined system standards, all operating systems can run on top of them and can be compatible with Arm-based hardware, from sensors, edge to the cloud. Based on the concept of a software-defined device, the adoption of the Arm architecture, which is widely used in the industry, will ensure that developers can maximize their software investment, Tsang said. "Since we can't anticipate the performance of the end devices, in order to achieve the best performance, self-developed software and cloud software will co-exist in the future. There'll be more and more cloud-native software running on the edge devices, and we encourage partners to join."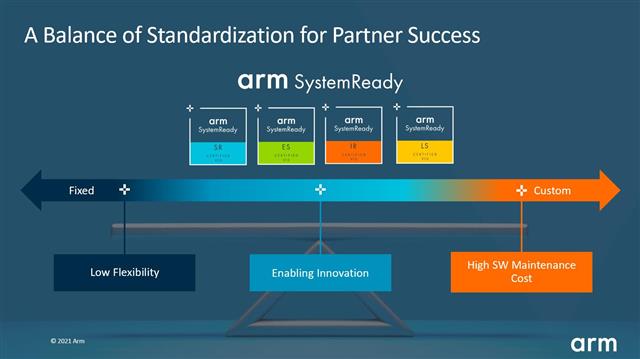 The Arm SystemReady program achieves balance between standardization and flexibility, helping partners innovate with differentiated designs
Hsu emphasized that for Arm, these efforts are all about trying to strike a balance between standardization and flexibility. Through standardization of hardware and underlying software, such as defining the standards in the Base System Architecture (BSA) and Base Boot Requirement (BBR), it will be easier for companies to port software and allow them to focus on application innovation and design differentiation.
On the security front, Armv9 introduced the Confidential Compute Architecture (CCA), introducing the concept of dynamically created Realms for the first time to protect data in use. The main difference between Realms and the existing TrustZone technology is that the latter believes the underlying operating system is secure while isolating secure world from non-secure world. On the other hand, the protection in CCA is to transfer data to its own Realms through an additional address translation, making it hard for the operating systems to probe the code and data executed in the Realms. Therefore, even if an operating system is compromised, the data and codes in Realms can still be ensured.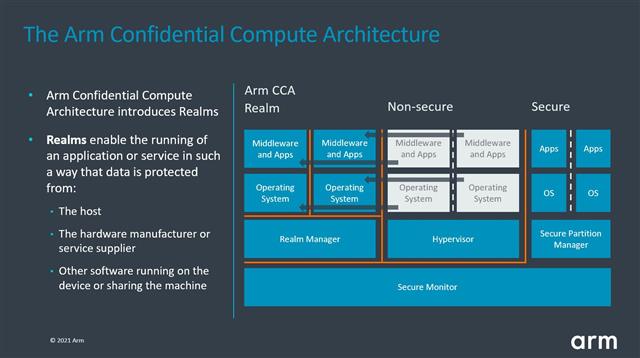 The Arm Confidential Compute Architecture (CCA) introduces a new concept of dynamically created Realms
Realms are an evolution of TrustZone. By being isolated from the operating system, Realms provide an additional layer of protection for software. Even dynamically downloaded apps on mobile phones can gain higher confidentiality by introducing the Realms. In addition, the Armv9 architecture provides enhanced support for Memory Tagging Extensions, which protects data passed from the CPU to the memory by allowing software to associate a pointer to memory with a tag to counter attacks on memory security vulnerabilities. Security is enhanced through the various protection mechanisms in hardware and software.
In digital signal processing (DSP) and AI computing, Arm partnered with Fujitsu to create the Scalable Vector Extension (SVE) technology, which is at the heart of the Fugaku, the world's fastest supercomputer. Building on that work, SVE2, an enhanced version of SVE developed for Armv9, enables support of vector length from 128 bits to a variable of 2048 bits.
Hsu said that such a large amount of parallel computing power enables Armv9 to work well for 5G systems, virtual reality, augmented reality and also for machine learning workloads. Over the next few years, Arm will further extend the performance with substantial enhancements in performing Matrix Multiplication within the CPU. In addition to expanding AI capabilities, AI innovations in Mali GPUs and Ethos NPUs will continue.
Leverage Arm ecosystem to accelerate product innovation and differentiation
The release of the Armv9 architecture is just a start. The industry will continue to see Arm roll out new products and technologies to propel Arm's vision: specialized processing, built on the economics, design freedom and accessibility advantages of our ubiquitous computing platform, enabling our partners to deliver best in class solutions across all markets. The first Armv9-based product will be available this year.
Armv9's advanced architecture opens up more innovation possibilities and new opportunities for Taiwan's technology industry. Tseng said Taiwan's technology sector had performed well in 2020, but the challenge of moving beyond existing business models to increase business value in response to the needs of the new generation of computing remains to be solved. "Taiwan companies have been very well versed in technology. Facing various opportunities such as 5G, IoT, cloud, automotive and others, they need to develop long-term profitability models and increase investment in innovation to lay the foundation for future growth."
"In Arm's case, we started investing in Armv9 research and development a few years ago to keep pace with the trends and partner needs. The opportunity Armv9 brings to Taiwan is about providing more value and the possibility of differentiation, which is the key to success," Tseng said.
Hsu explained, "In the case of smart camera, Taiwan companies has built strong capabilities from chip design, software to the machine. The competitive advantage can be further improved by taking advantage of Armv9's enhanced security and AI performance to take the lead in developing more powerful and more secure products, for example, achieving higher recognition accuracy in AI, in line with the special use case, or increasing product security."
"Arm has been deeply cultivated in Taiwan for more than 20 years, and we have been committed to helping our customers expand the market and drive business value." Tsang said. "Taiwan has built up strong design capabilities and already been a critical part of global high-tech supply chain, and we look forward to helping partners speed up time to market for new products through Armv9's excellent features and enhanced connection of ecosystem."
"We see great opportunities in areas including smart cameras, smart surveillance, PC, laptop, edge computing, data centers, automotive, and industrial computers for Taiwan companies." Tseng explained.
MediaTek took the lead in adopting Armv9 and the new product will be available at the end of this year
MediaTek has become quite the household name in 5G mobile communication technology over recent years. Apart from just smartphones, Arm's collaboration with MediaTek on new Armv9 architecture products extends throughout its product range. "The Arm Neoverse solution supports more cores at constant thermal design power (TDP), improves energy efficiency and performance to offer greater potential for workloads such as high performance computing and machine learning. We are in ongoing discussion with MediaTek in consumer electronics and communication areas such as 5G wireless base stations, enterprise private networks, edge computing, core networks and data centers, etc., and look forward to more cooperation opportunities," said Tseng.
At the global launch of the Armv9, MediaTek announced that their first Armv9-based smartphone product will be available by the end of 2021. "MediaTek has built up an abundance of product lines encompassing mobile devices, home entertainment applications, wireless connection technologies and IoT markets over the years. The scalability of the Arm architecture, along with excellent performance and design innovation are key as we expand the MediaTek portfolio," said Dr. JC Hsu, Corporate Vice President and General Manager of MediaTek's Wireless Communications Business Unit.
JC Hsu believes that the support and advice provided by the Arm team has indeed played a key role in enabling MediaTek's continued innovation and product enhancement. He thinks very highly of the Armv9 architecture in terms of its better security, computing performance and energy efficiency. Through Arm's multiple solutions, including high-efficiency, low-power design and the scalability of the system platform, MediaTek will continue to work closely with Arm in all fields going forward.
This echoes what Tseng has stressed all along -- the hope of helping Arm partners to leverage Arm core architecture, the powerful ecosystem and software support to expand markets and generate business opportunities. It is expected that Armv9 will become the foundation for next-generation chip designs as well as the opportunity for enterprises to enhance their competitiveness and technological innovation.
Click here to get more details on the Armv9 architecture
DIGITIMES' editorial team was not involved in the creation or production of this content. Companies looking to contribute commercial news or press releases are welcome to contact us.