Orbotech showcases roll-to-roll direct imaging and UV laser drilling solutions that drive flex PCB process innovation and has an optimistic outlook on 2021
Sponsored content
The COVID-19 pandemic has severely impacted the global economy. However, thanks to their unique market position and manufacturing capabilities, the Taiwan and China-based cross-strait PCB makers achieved good results in 2020. Increasing demands for 5G infrastructure, cloud data centers and high-performance computing led to stronger growth momentum. These market forces are creating an increase in demand and interest in printed circuit boards (PCB), in particular high-end multi-layer boards (MLB), high density interconnect (HDI) PCBs and flexible PCBs (FPCB).
We met up with Pierce Weng, General Manager of Orbotech PCB Taiwan, to talk about the company's new process-enabling solutions for FPCB manufacturing. For 40 years, Orbotech, a KLA company, has been developing advanced yield enhancement solutions for the manufacturing of electronics. Through its long-time partnership with Taiwanese and Chinese PCB makers, Orbotech has enabled the electronics manufacturing service industry to maintain its leading global position.
Orbotech Infinitum and Orbotech Apeiron series provide a big boost for FPCB manufacturing
Flex circuits are widely used in almost all popular electronic products, especially smartphones, tablets and notebooks. 2020 was a bumper year for flex manufacturing and FPCB makers had to respond quickly in order to meet the strong demand. To help its customers achieve their business objectives, Orbotech has announced two new roll-to-roll (R2R) products for FPCB manufacturing. The solutions are for roll-to-roll direct imaging (DI) and UV laser drilling. Both overcome many of the yield, throughput and quality challenges inherent in flex material manufacturing. Leveraging newly developed and field-proven technologies, the solutions facilitate high quality, cost-effective mass production of the ultra-thin FPCB boards that are critical in new generations of advanced electronics.
The first solution is the Orbotech Infinitum series - a roll-to-roll direct imaging solution for mass production of FPCBs. Leveraging Orbotech's new DDI Technology (Drum Direct Imaging ) for optimal material handling and high-speed imaging, the systems deliver high yield and production throughput. The Orbotech Infinitum delivers fine line structure and uniformity enabled by continuous exposure and high depth-of-focus (DoF) with Orbotech's LSO Technology (Large Scan Optics Technology). The systems are compatible with a wide range of resists and processes enabled by simultaneous multi-wave exposure thanks to Orbotech's MultiWave Technology. The two models named Orbotech Infinitum 10 and Orbotech Infinitum 10XT both offer maximum efficiency and cleanliness with options for roll widths of 260mm and up to 520mm.
The next solution is the Orbotech Apeiron series. A powerful UV laser drilling system for flex roll-to-roll and sheet-by-sheet drilling, it delivers high drilling throughput, quality and accuracy. Using Multi-Path Technology, its precise laser beam and four large scan area drilling heads can drill in four locations simultaneously, optimizing laser power usage. Its small footprint design leverages its internal roll-to-roll mechanism, enabled by the new Roll-Inside Technology. The third technology driving this innovative solution is Orbotech's CBU Technology (Continuous Beam Uniformity) that provides built-in beam validation tools to ensure beam accuracy and quality for size, roundness and energy distribution. Orbotech Apeiron offers both roll-to-roll and sheet-by-sheet handling of thin flex cores with the ability to simultaneously drill two panel sheets, side by side for maximum drilling capacity.
Based on its experience and expertise as well as its close partnerships with PCB makers, Orbotech has developed a wide range of solutions designed specifically to meet the demanding requirements of FPCB and advanced HDI PCBs. Orbotech offers an entire suite of solutions for mass production including DI (Direct Imaging), AOI (Automated Optical Inspection) and AOS (Automated Optical Shaping) - the 3D shaping of opens, shorts and nicks. Orbotech's product offering is in great demand from PCB makers. With its announcement of the Orbotech Infinitum and Orbotech Apeiron series, Orbotech continues to maintain its market leadership as it optimizes the handling of the most delicate flex materials during direct imaging and UV laser drilling processes.
Taiwan PCB makers see optimistic outlook in 2021
With the year finally coming to an end, Mr. Weng reviewed the business development of 2020 in PCB sectors. 5G smartphones did not meet their forecasts during the early months of 2020, mainly because the global brands' flagship models were postponed. But mid-end and entry level lower price phones took a major step up in volumes and maintained an overall upward trend for the mobile phone market. Meanwhile, some leading investments for 6G technology have been initiated. This will contribute to higher-end process equipment and manufacturing solutions and increase demand for Orbotech's wide range of innovative solutions and product offerings.
In addition to mobile phone PCB sectors, HDI boards were one of the fastest growing technologies during 2020. With the widespread adoption of 5G base stations worldwide and major Taiwan PCB makers enjoying robust orders for notebooks, tablets and PC servers, HDI PCB makers are showing strong growth. Successful manufacturing of HDI and multi-layer PCBs have thinner lines, tighter spacing, tighter annular rings and use thinner specialty materials. First tier PCB makers are working in close collaboration with Orbotech's engineering teams developing special equipment including laser drills, laser direct imaging and sequential lamination process solutions. In order to successfully produce this type of board, it requires additional time and a significant CAPEX investment in manufacturing processes and equipment.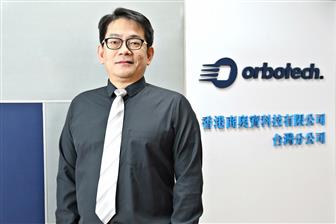 Pierce Weng, GM of Orbotech PCB Taiwan, gives upbeat sales forecast on high-end PCB process enabling solutions
DIGITIMES' editorial team was not involved in the creation or production of this content. Companies looking to contribute commercial news or press releases are welcome to contact us.