Connected devices for a diversity of applications are burgeoning thanks to widespread availability of 4G communication. As these connected devices are everywhere in our daily lives, any product security vulnerability could result in data breach and comprise user privacy. With governments and leading enterprises around the globe stepping up cybersecurity efforts, manufacturers have begun to engage third-party cybersecurity test labs to help validate their security implementations. Onward Security operates an ISO 17025 certified lab, which has been authorized by Amazon Alexa, CTIA and ioXt for device testing and security assessment. It is also only authorized Taiwan company by CREST to provide penetration testing service.
Committed to cyber security, Onward Security delivers professional testing and compliance services to help Taiwan-based manufacturers meet security requirements in markets at home and abroad.
Enabling high bandwidth, low latency and massive connection capabilities, 5G networks are considered the backbone supporting the operation of smart systems and the last of piece of the puzzle for IoT. Onward Security CTO Daniel Liu points out to system developers and adopters that American and European governments are closely watching security threats arising from vulnerabilities in emerging IoT and 5G-enabled devices that may be inherent in the product design or introduced during product deployment. Not only can such vulnerabilities lead to significant business loss, but they may also pose a threat to national security. In response, American and European governments are tightening the restrictions on cybersecurity compliance on the part of system developers and equipment suppliers. Products are required to get certified before entering the market and afterwards their security measures need to be examined on a regular basis against the latest data breaches and cyberattacks. Manufacturers have to stay on top of any security risks of their products so as to uphold their brand image and value.
According to AustCyber, the global cybersecurity market is currently worth around US$173 billion and is forecast to grow to US$270 billion by 2026 and 77% of cybersecurity spending will be for externally managed security services. Optimizing the use of corporate resources by engaging third-party services has become a trend in the cybersecurity market. In view of the recent increase in cyberattacks on IoT devices, R&D engineers' lack of cybersecurity awareness and manufacturers not being careful enough, it is a must that connected devices pass cybersecurity assessment. As such, obtaining IoT cybersecurity certification marks for their products is something that Taiwan-based manufacturers have to pay attention to, Liu emphasized.
With a focus on IoT device cybersecurity since establishment, Onward Security develops AI cybersecurity products and offers compliance consultation and international certification services. Having accumulated a wealth of experience in mobile communication technology testing and research, including 2G GSM, 3G UMTS and 4G LTE, Onward Security has also devoted resources toward 5G applications that are at the center of market attention. It has built a complete 5G simulation environment to which 5G-enabled devices can connect to allow test engineers and researchers to conduct security inspection and assessment.
It is challenging for manufacturers to gain a precise understanding of various IoT cybersecurity regulations and successfully pass certification. According to Liu, Onward Security's compliance service team has helped ensure Taiwan-based manufacturers' products meet cybersecurity regulations and industry standards, for example, smart bus systems, smart street light, as well as IP camera security and device security. Not only does Onward Security assist manufacturers obtain Taiwan's cybersecurity marks for their products, but it also operates a cybersecurity test lab that has been authorized by multiple international organizations. As Taiwan's most comprehensive IoT cybersecurity testing and compliance service provider, Onward Security has drawn manufacturers across different fields of expertise for strengthened collaborations. This goes to show that Taiwan's manufacturing sector is beginning to take IoT cybersecurity seriously. Liu calls out to manufacturers to pick up the pace of cybersecurity certification so as to capture preemptive opportunities in the 5G era.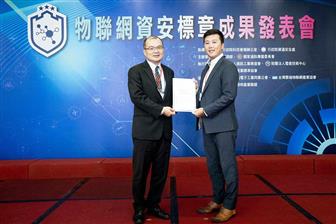 At IoT Cybersecurity Mark Achievement Presentation, held by the Ministry of Economic Affairs and the National Communications Commission, Onward Security CTO Daniel Liu receiving certification of extending NVR/DVR and NAS as accreditation scope, signifying the company's robust capability to help vendors strengthen IoT device security
DIGITIMES' editorial team was not involved in the creation or production of this content. Companies looking to contribute commercial news or press releases are welcome to contact us.