Looking for true and effective solution fighting against COVID-19? Feeling confused of all sorts of UVC air purifier on the market but no idea which to bring home? It is our honor to present you with our recent big win, SADC-AP01 air purifier.
Within 1 hour, conducting 36 times air circulation in 45 square feet area, SADC-AP01 air purifier can assure you breathing truly sterilized fresh air. Unlike other brands playing word games, boasting their products can conduct 99.99% sterilization because of UVC light but not exactly by their products.
Here we sincerely announce that every single set of our air purifier did acquire CE, FCC, UL and most importantly SGS certification, which can prove that our structure design, along with the precise calculation can assure our products effectively killing bacteria, virus, also assuring customer receiving true, safely products in hand.
Hard to choose between HEPA filter and static filter? The key point is to pick the one which can block the P.M2.5, stopping the bacteria and virus go through the machine. Both filters can do so, but HEPA filter is suggested to change at least every 2 months, while static filter is non-consumable materials, so it is life-long free. Our filter save your money and save the earth.
Found the cheaper and similar products online? Is it UVA or UVB or even merely a blue light? Is it mercury light or UVC LED? Do you prefer real effectiveness or the outlook? Are you saving your money buying fancy but useless products? Harvatek air purifier is the solution of all your questions.
What's more, Harvatek has all the UVC LED modules you might be interested in air solution also water solutions. For air solutions, our module perfectly made the balance between UVC LED and heat with effectiveness. It has the advantages of occupying small volumes, high sterilizing efficiency, and effectively guaranteeing the indoor environment sanitation of the user. Sterilization rate reaches above 70% after turning on module for 1 hour.
For water solutions, we are having two type as water-flowing and water-tank. Water-flowing type can completely solves the problems of microbial contamination and bacteria levels in drinking water exceeding standards. Water-tank type features for it can sterilize the water stored in the tank. Different liters of still water has correspond module suggestion.
Last but not least, Harvatek UVC module team are also dedicated in providing ODM service, as air purifier SADC-AP01 has proved that we have the ability to finalized an module from kitting to finished goods. Customer will be the one to find out the most competitive functions for their products and strategy, and we will be the one to realize their ideas, finding out the best and most effective solutions for all kinds of UVC related products.
Our successful story varies from dentist sterilizing box to UVC water filter sterilization, which is boosting quite well at the moment. Please visit the website for more information.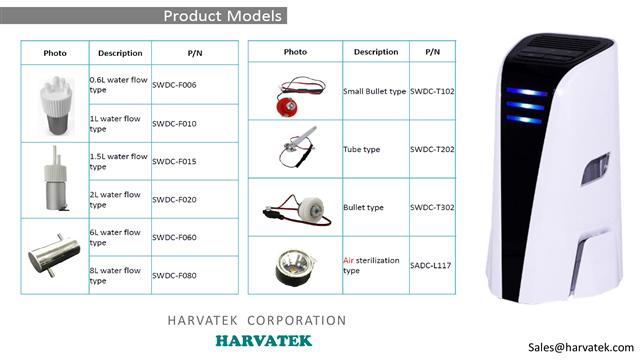 Harvatek UVC model air purifier
Photo: Company
DIGITIMES' editorial team was not involved in the creation or production of this content. Companies looking to contribute commercial news or press releases are welcome to contact us.