Notebook and tablet shipments are both expected to increase from a year ago in 2020 due to demand from stay-at-home activities, while those of smartphones will slip. In 2021, notebook shipments will stay flat on year, but tablet will decline, while smartphone volumes will rise thanks to 5G's commercialization.
Abstract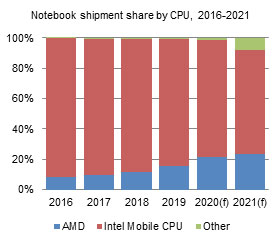 Stay-at-home activities in the wake of the coronavirus pandemic have been driving robust shipment growth for the notebook industry in 2020. The pandemic is likely to linger in 2021, with stay-at-home activities becoming the new normal to continue sustaining notebook shipments.
Global tablet shipments in 2020 will show flat growth from the 2019 level as the COVID-19 pandemic spurs explosive stay-at-home demand. With unfilled demand for tablets gradually satisfied and a high comparison base in 2020, tablet shipments in 2021 will decelerate and suffer a double-digit decline on year.
After suffering two consecutive years of annual declines, global smartphone shipments will experience another drop in 2020, with the scale even widening to double digits, as the market has sustained impact from the coronavirus pandemic. In 2021, global smartphone shipments are estimated to show a strong double-digit rebound on year thanks to 5G's commercialization in mature markets.
Table of contents
Price: NT$15,000 (approx. US$535)