Wan Da Tong is in charge of operating and managing the Taipei Bus Station, which houses the Taipei terminal for mid- and long-range bus services operated by nine companies. Amid fierce competition, Taiwan's bus service providers operate on narrow profit margins and are often obliged to extend services to remote villages. It is difficult for them to allocate additional capital toward developing smart application programs or services under such circumstances.
Running the Taipei Bus Station for eleven years, Wan Da Tong knows what it feels like when massive crowds line up in front of ticket counters to get bus tickets ahead of every Lunar New Year holiday or any public holiday. Wan Da Tong's general manager Ching-Hsiang Chen has been interacting with bus service providers for a long time. They have worked out their differences and established mutual trust and good rapport. To improve overall service quality and efficiency while fulfilling the digitization of public transportation, with the assistance from Industrial Development Bureau (IDB), Ministry of Economic Affairs (MOEA), Wan Da Tong undertook a project to develop an app for ticketing and integrated value-added consumer services. The app provides highway bus service information and online TBS ticketing service.
In response to growing awareness on environmental protection and encourage citizens to take public transportation, Wan Da Tong worked with Syscom to develop the app that provides highway bus service information and online ticketing service. With a nationwide service scope, the app offers a more convenient way for passengers to purchase bus tickets and more than that, it can help bus service providers improve scheduling efficiency and cost structure through big data analytics. Traffic authorities can also gain a better grasp on public transportation management with access to data collected by the app.
Chen highlighted that the TBS app serves as a joint ticketing platform consolidating bus services provided by five operators. Credit cards and mobile payments including JKoPay and LinePay are accepted. Featuring smooth operation and a user-friendly interface, the app presents an easy-to-understand menu and view of the different routes and schedules offered by all the bus operators. This is a result combining long-term industry experiences, field observations, discussions and repeated system tests and validations.
With the app, users can check all operators' bus schedules, select seats and compare ticket prices. After purchasing their tickets online, all they need to do to get on board is scan the QR code. Such environmentally friendly, paperless ticketing also allows users to easily manage their itinerary on their mobile phones, which is the app's main appeal. To promote purchase of multiple tickets at a time, the app allows one user to buy more than one ticket and distribute the tickets to each passenger afterwards. Users can also conduct ticket changes on the app. Not only does the app make ticket purchase a breeze for passengers, it will also drive digital transformation for bus service providers while boosting utilization of public transportation.
Although bus services sustained major COVID-19 impact in the first half of 2020, there has been an increase in ridership since infection cases dropped and summer vacation began. After starting pilot operation on August 23, 2019, the app has accumulated 120,000 subscribers in less than a year and is enjoying a steady increase in subscribership.
The platform currently includes long-range bus service providers Kuo-Kuang, Ubus, Kamalan, Ho-Hsin and Alohatransport, and will add regional operators such as Jasun, Taroko, Chia-Yi Bus, Tainan Bus and Taiwan Tourist Shuttle. Statistics indicate that the No. 1 destination of all the app users is Taichung, followed by Tainan at No. 2, Kaohsiung at No. 3, Changhua at No. 4 and Chia-yi at No. 5.
Chen extended gratitude to MOEA's Smart City Program for providing funding that enabled timely completion of the app and expressed admiration for the Taiwan government's active investments to help domestic businesses explore digitization applications. In response, businesses receiving the government assistance give their 100% to perfect their systems. To ensure the system can support a sharp spike in user log-ins before long holidays without performance degradation, the ticketing app has passed a stress test wherein 100,000 users go online and buy tickets at the same time, demonstrating optimal reliability.
Going forward, more integrated marketing features will be incorporated into the app, including local tourist spot recommendations, itinerary planning and local specialty promotions. Moreover, the results from big data analytics will bring about a diversity of services. There are also ongoing efforts to seek partnership opportunities with Southeast Asian governments and connect Taiwan's industries with the rest of the world.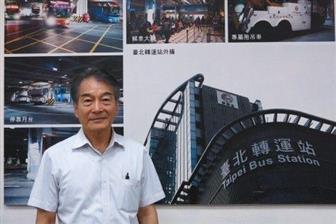 Wan Da Tong's general manager Ching-Hsiang Chen
Photo: Sandy Du, Digitimes, September 2020