AU Optronics (AUO) has leveraged its display technologies and teamed up with Space4Money, the company's wholly-owned subsidiary specializing in smart retail software and hardware integration solutions, to deliver interactive Smart Collection Wall and Information Wall displays, officially unveiled at the Orientation Gallery of Taiwan's National Palace Museum.
Following the successful completion of smart retail spaces for domestic telecommunications companies, restaurant chains, creative arts and department store brands, AUO leads Space4Money to wield its expertise in product technologies and smart interactive solutions to offer a brand new experience for visitors to the National Palace Museum.
To meet the new trends of smart showcasing and digital creative arts, Space4Money has partnered with animation studio Digimax to achieve a melange of technology and humanities with its interactive smart showcase integrating the National Palace Museum's digital archive of artifacts in the Orientation Gallery.
Among the installations, the Smart Collection Wall, measuring at 12m in width, is currently the largest of its kind in Asia. The interactive wall uses 20 pieces of AUO's 55-inch high spec video wall displays, boasting high resolution, low reflection, and appealing extreme narrow bezel design.
The bezel with displays assembled is a mere 1.8mm wide, forming an almost seamless single large screen for viewers to see a full spread of images. The Smart Collection Wall has an intuitive and friendly user interface and infrared sensor design to allow several users to select, drag and swipe pictures, videos, animations, 360-degree digital models, and writing interpretations of over 300 artifacts at the same time.
After accessing the virtual artworks, visitors are encouraged to explore further the actual collections in the museum. On both sides of the Orientation Gallery, the Information Walls, each composed of four 55-inch video wall displays, showcase the latest museum exhibitions and events information for visitors to get a sneak preview.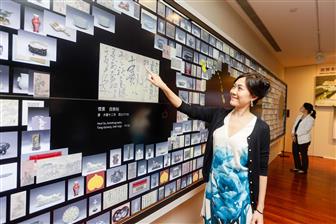 The Smart Collection Wall designed by AUO's group
Photo: Company